York County

,

Pennsylvania


Seal


Location in the state of Pennsylvania

Pennsylvania's location in the U.S.
Founded
August 19, 1749
Seat
York
Largest city
York
Area
 - Total
 - Land
 - Water

910 sq mi (2,357 km²)
904 sq mi (2,341 km²)
6 sq mi (16 km²), 0.64%
Population
 - (2010)
 - Density

434,972
481/sq mi (185.8/km²)
Website
www.york-county.org
York County is a county in the U.S. state of Pennsylvania. As of 2010, the population was 434,972. It is in the Susquehanna Valley, a large fertile agricultural region in South Central Pennsylvania.
York County was created on August 19, 1749, from part of Lancaster County and named either for the Duke of York, an early patron of the Penn family, or for the city and shire of York in England. Its county seat is the city of York.[1]
Based on the Articles of Confederation having been adopted in York by the Second Continental Congress on November 15, 1777, the local government and business community began referring to York in the 1960s as the first capital of the United States of America. The designation has been debated by historians ever since.[2] Congress considered York, and the borough of Wrightsville, on the eastern side of York County along the Susquehanna River, as a permanent capital of the United States before Washington, D.C. was selected.[3]
According to the U.S. Census Bureau, the county has a total area of 910 square miles (2,358 km²), of which 904 square miles (2,343 km²) is land and 6 square miles (15 km²) (0.64%) is water. The county is bound to its eastern border by the Susquehanna River. Its southern border is the Mason-Dixon Line, which separates Pennsylvania and Maryland.
Historical populations
Census
Pop.
%±
1790
37,535

—

1800
25,643

−31.7

%
1810
31,958

24.6

%
1820
38,759

21.3

%
1830
42,859

10.6

%
1840
47,010

9.7

%
1850
57,450

22.2

%
1860
68,200

18.7

%
1870
76,134

11.6

%
1880
87,841

15.4

%
1890
99,489

13.3

%
1900
116,413

17.0

%
1910
136,405

17.2

%
1920
144,521

5.9

%
1930
167,135

15.6

%
1940
178,022

6.5

%
1950
202,737

13.9

%
1960
238,336

17.6

%
1970
272,603

14.4

%
1980
312,963

14.8

%
1990
339,574

8.5

%
2000
381,751

12.4

%
2010
434,972

13.9

%
[4][5]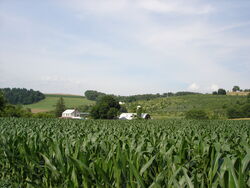 As of the census[6] of 2000, there were 381,751 people, 148,219 households, and 105,531 families residing in the county. The population density was 422 people per square mile (163/km²). There were 156,720 housing units at an average density of 173 per square mile (67/km²). The racial makeup of the county was 92.76% White, 3.69% African American, 0.18% Native American, 0.86% Asian, 0.03% Pacific Islander, 1.39% from other races, and 1.10% from two or more races. Hispanic or Latino of any race were 2.96% of the population. 42.0% were of German, 12.6% American, 7.7% Irish, 6.4% English and 5.1% Italian ancestry according to Census 2000. 94.8% spoke English and 2.9% Spanish as their first language.
There were 148,219 households out of which 32.50% had children under the age of 18 living with them, 58.30% were married couples living together, 9.00% had a female householder with no husband present, and 28.80% were non-families. 23.30% of all households were made up of individuals and 9.20% had someone living alone who was 65 years of age or older. The average household size was 2.52 and the average family size was 2.98.
In the county, the population was spread out with 24.60% under the age of 18, 7.50% from 18 to 24, 30.30% from 25 to 44, 24.00% from 45 to 64, and 13.50% who were 65 years of age or older. The median age was 38 years. For every 100 females there were 96.70 males. For every 100 females age 18 and over, there were 93.80 males.
The York-Hanover Metropolitan Statistical Area is the fastest-growing metro area in the Northeast region, and is ranked nationally among the fastest-growing in the nation, according to the "2006 Population Estimates for Metropolitan and Micropolitan Statistical Areas" (U.S. Census Bureau). The estimates listed York-Hanover as the 95th fastest-growing metro area in the nation, increasing 9.1 percent between 2000 and 2006.
York County is home to Martin's Potato Chips in Thomasville, Utz Quality Foods, Inc. in Hanover, Snyder's of Hanover in Hanover, Gibble's Potato Chips in York, Wolfgang Candy in York, The Bon-Ton in York, Dentsply in York, and a major manufacturing branch of Harley-Davidson Motor Company.
As of November 2008, there are 299,414 registered voters in York County[7].
M. Steve Chronister, Chairman, Republican
Christopher B. Reilly, Vice-chairman, Republican
Doug Hoke, Democrat
Clerk of Courts, Don O'Shell, Republican
Controller, Robb Green, Republican
Coroner, Barry Bloss, Republican
District Attorney, Thomas Kearney, Republican
Prothonotary, Pamela S. Lee, Republican
Recorder of Deeds, Randy Reisinger, Republican
Register of Wills, Bradley C. Jacobs, Republican
Sheriff, Richard P. Keuerleber III, Republican
Treasurer, Barbara Bair, Republican
Pennsylvania House of Representatives
[
edit
|
edit source
]
United States House of Representatives
[
edit
|
edit source
]
Under Pennsylvania law, there are four types of incorporated municipalities: cities, boroughs, townships, and, in at most two cases, towns. The following cities, boroughs and townships are in York County:
Census-designated places are geographical areas designated by the U.S. Census Bureau for the purposes of compiling demographic data. They are not actual jurisdictions under Pennsylvania law. Other unincorporated communities, such as villages, may be listed here as well.
Helen Thackston Charter School (6-8) - York [8]
Crispus Attucks Youthbuild Charter School (K-6) - York
Lincoln Charter School - York
New Hope Academy Charter School (K-6) - York
York Academy Regional Charter School
York Adams Academy (formerly York County High School)
Lincoln Intermediate Unit (IU#12) region includes: Adams County, Franklin County and York County. The agency offers school districts, home schooled students and private schools many services including: special education services, combined purchasing, and instructional technology services. It runs Summer Academy which offers both art and academic strands designed to meet the individual needs of gifted, talented and high achieving students. Additional services include: Curriculum Mapping, Professional Development for school employees, Adult Education, Nonpublic School Services, Business Services, Migrant & ESL (English as a Second Language), Instructional Services, Management Services, and Technology Services. It also provides a GED program to adults who want to earn a high school diploma and literacy programs. The Lincoln Intermediate Unit is governed by a 13 member Board of Directors, each a member of a local school board from the 25 school districts. Board members are elected by school directors of all 25 school districts for three-year terms that begin the first day of July.[9] There are 29 intermediate units in Pennsylvania. They are funded by school districts, state and federal program specific funding and grants. IUs do not have the power to tax.

Wikimedia Commons has media related to:
Coordinates: 39°55′N 76°44′W / 39.92, -76.73
Community content is available under
CC-BY-SA
unless otherwise noted.