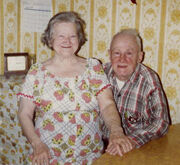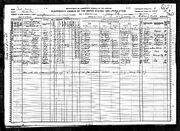 Winifred Skinner (1899-1993) aka Winnie Skinner; Housewife (b. February 18, 1899, Jersey City, Hudson County, New Jersey, USA - d. September 1993, Oakland, Bergen County, New Jersey, 07436, USA) Social Security Number 152208587.
Winnie was the daughter of Algernon E. Skinner (1867-1943) and Mamie Mary Caulfield (1875-c1920). Algernon died from the gangrene in his leg caused by his diabetes.
Winifred had the following siblings: Hattie Skinner (1894-?) who may have been institutionalized; George Skinner (1897-?); Mary Skinner (1898-?); Florence Catherine Skinner (1901-1986) who married Eugene Freudenberg I (1900-1956); and Robert Skinner (1904-c1942).
In 1920 she was living without her parents and her two siblings in Jersey City, New Jersey. On April 8, 1920 Winnie married George Francis McManus I (1896-1989).
Together thay had the following children: George Francis McManus II (1921-1989) who married Margaret; Edward McManus (1925-1989) who married Doris; James; and Winifred.
New Jersey
Edit
When Winifred and George retired they bought a house in Leonardo, New Jersey. Winifred Skinner had diabetes and she went into a diabetic coma, so they moved to Oakland where her daughter Winifred McManus lived.
Winifred Skinner died in Oakland, New Jersey in 1993.
Cremation
Edit
Her remains were cremated.
External links
Edit
Community content is available under
CC-BY-SA
unless otherwise noted.