William Shelton Ivie was born 16 August 1811 in Franklin County, Georgia, United States to Anderson Ivie (1774-1852) and Sarah Allred (1786-1862) and died 30 August 1858 Kirksville, Adair County, Missouri, United States of unspecified causes. He married Julia Louisa Van Dyne (1817-1889) 2 August 1835 in Hamilton County, Illinois.
It was in the early 1830's in Missouri, that the Mormon Missionaries came to the areas in Missouri where the Ivies lived. Parley P. Pratt was one of the elders who came so often to their homes. It was he who brought the Book of Mormon to them and taught them the gospel, which converted them. He also helped to baptize them as members of the Church of Latter-Day Saints. Thereafter, their homes were always homes for the traveling missionaries.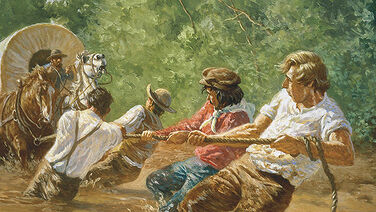 One of the most interesting episodes in the early history of LDS Church was the march of Zion's Camp (1834). The members of the Church in Missouri were being persecuted, and the Prophet Joseph made it a matter of prayer and received a revelation on February 24, 1834. The Lord instructed the Prophet to assemble at least one hundred young and middle-aged men and to go to the land of Zion, or Missouri. (See D&C 130:19–34.)
Zion's Camp, a group of approximately one hundred and fifty men, gathered at Kirtland, Ohio, in the spring of 1834 and marched to Jackson County, Missouri. By the time they reached Missouri, the camp had increased to approximately two hundred men.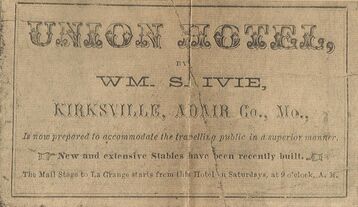 Business card of the Union Hotel in Kirksville, Mo. (also known as the Ivie Hotel), run by William Shelton Ivie until he died, and then was continued to be run by his wife for many years. It was located on the NW corner of the intersection of Franklin and Harrison Streets, on the town square in Kirksville, Missouri (the location where later a J. C. Penney Store was built).
Children
Siblings
Community content is available under
CC-BY-SA
unless otherwise noted.