Biography
William Sargent was born 1606 in Ormesby St Margaret, Norfolk, England to Richard Hugh Sargent (1575-1675) and Katherine Stevens (1573-1609) and died 13 March 1675 Amesbury, Essex County, Massachusetts of unspecified causes. He married Elizabeth Judith Perkins (1611-1670) 1633 in Ipswich, Essex County, Massachusetts. He married Joanna Pinder (1621-1690) 18 September 1670 in Amesbury, Essex County, Massachusetts.
William Sargent, described as an able seaman. He came to America on the Ship Lion in 1633 with John Winthrop, Governor of the new colony, and his company of Puritans. The flotilla was comprised of 4 ships with four hundred people who set out to the new continent on April 7, 1630. The immigrants were mostly Puritians and were carefully selected by Winthrop. He and his party arrived two months later in Salem, Massachusetts. The settlers could scarcely believe their eye's as the land was a total wilderness; except for a few huts and clearings made by previous settlers. The thought's of having to clear the land in order to raise crops and supply themselves in the coming winter was frightening. With food provisions running low, and many suffering from malnutrition, scores of the new settlers refused to get off the ships and decided to sail back to England immediately. Those who landed faced what seemed to be an insurmountable task. Through faith in God, perseverance, hard work, and the leadership of John Winthrop, William Sargent along with 800 of 1000 new settlers survived the first winter by carving caves in the hillsides and digging holes in the ground. When spring arrived another 200 would return to England.
The colony was moved away from Salem, someplace where they would have room to build houses and raise crops. The colony settled largely in Charlestown, Cambridge, Boston, Watertown, Roxbury and Dorchester. William Sargent took his family north where they would settle in Ipswich, Salisbury and Amesbury, Massachusetts. Elizabeth, who would become the wife of William Sargent, arrived in America aboard the ship Lion in the spring of 1631. William and Elizabeth were both in Agawam (Ipswich) prior to 1633. William Sargent was one of the first to plant at Ipswich, Massachusetts. It is believed they married there in 1633. There is apparently no record of the marriage.
In a grant at Ipswich in 1634, William Sargent received twelve acres of land [ITR]. "Willi[am] Sergant" was in the list of petitioners, mostly Newbury men, headed by STEPHEN BACHILER, who on 6 September 1638 were granted "liberty to begin a plantation at Winnacunnet [Hampton]" [MBCR 1:236]. "Will[iam] Sargent" was in the section of married men in the list of first comers to Hampton [GDMNH 55].William Sargent was admitted to the Massachusetts Bay Church before May 22, 1639.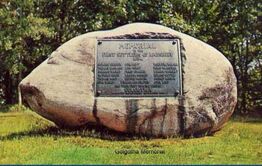 In 1640, the first Puritan settlers arrived to Amesbury, Massachusetts; their first burying ground was on a hill overlooking the Powow River, now referred to as Golgotha. The grave stones or markers in this first burying ground have long since disappeared, along with the identity of the people buried here. In 1903, the Amesbury Founders Memorial was erected by the Amesbury Improvement Association, to mark the site of Amesbury's first burying ground.
Children
Offspring of William Sargent and Elizabeth Judith Perkins (1611-1670)
Name
Birth
Death
Joined with

Mary Sargent (1636-1716)




Elizabeth Sargent (1641-1642)




Thomas Sargent (1643-1706)



William Sargent (1645-1712)
2 January 1645 Salisbury, Essex County, Massachusetts
31 May 1712 Amesbury, Essex County, Massachusetts
Mary Colby (1647-1716)


Lydia Sargent (1647-1661)




Sarah Sargent (1648-1651)



Elizabeth Sargent (1648-1736)
22 September 1648 Amesbury, Essex County, Massachusetts
5 February 1736 Amesbury, Essex County, Massachusetts
Samuel Colby (1638-1716)

Sarah Sargent (1651-1701)
29 December 1651 Amesbury, Essex County, Massachusetts
3 October 1701 Amesbury, Suffolk County, Massachusetts
Orlando Bagley (1658-1727)
Siblings
Residences
See Also
Footnotes (including sources)