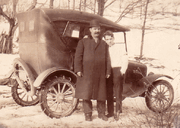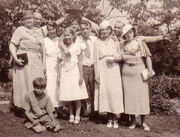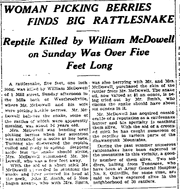 William Nathan McDowell (1882-1966) aka Bill McDowell. He worked for the railroad during World War I and later was house painter, carpenter and handyman. He died of gangrene when he cut his foot with an ax while splitting wood. (b. May 18, 1882; Westbrookville, Sullivan County, New York, 12785, USA - d. May 06, 1966; Liberty, Sullivan County, New York, 12754, USA) Social Security Number 086145369.
On October 07, 1903 Bill married Mary F. Benedict (1887-1965) and they had one child: Charles William McDowell (1907-1975). They then divorced and Mary married Frederick Eugene Skinner, a cattle dealer from Westbrookville. Frederick was the son of James Skinner and Lucinda Jane Tompkin. Mary was the daughter of Jonathan Benedict (1850-1879) and Nancy L. Culver (1850-1924).
Bill then married Margaret Piatt (1879-1952) aka Mae Piatt. Margaret was the daughter of William Lewis Piatt (1834-1918) and Phoebe Hubbard (1853-1910).
August 11, 1919: "Woman Picking Berries Finds Big Rattlesnake. Reptile Killed By William McDowell on Sunday was Over 5 Feet Long. A rattlesnake, five feet, one inch long, was killed by William McDowell of 1 Mill street, Sunday afternoon in the hills back of Westbrookville where Mr. McDowell and his wife were picking huckleberries. Mr. McDowell believes the snake, some of the rattles of which were apparently missing, was about 16 years old. Mrs. McDowell well was bending over picking, berries when her attention as attracted by a noise at her back. Turning she discovered the reptile coiled and ready to spring. Stepping aside lest snake should strike strike, Mrs. McDowell summoned Mr. McDowell a few feet away. With the aid of a short stick Mr. McDowell [managed] in stunning the snake and severed the head at the neck. ..."
He died of gangrene after cutting his foot while chopping wood.
Memories about William McDowell
[
edit
|
edit source
]
Community content is available under
CC-BY-SA
unless otherwise noted.