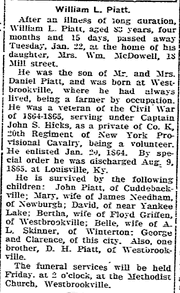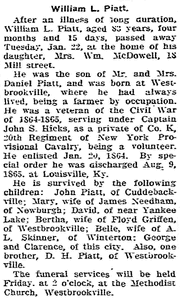 William Lewis Piatt (1834-1918) Farmer and Civil War Veteran (b. September 07, 1834, Westbrookville, Sullivan County, New York, 12785, USA - d. January 22, 1918, Middletown, New York, USA)
First marriage and children
Edit
William married Minnie Woods (1843-1871) and had the following children:
John F. Piatt (1860-aft1918) of Cudebackville who married Marietta Clark
Mary A. Piatt (1861-aft1918) who married James Needham of Newburgh
Silas M. Piatt (1862-bef1918)
William H. Piatt (1864-?) who died between 1880 and 1918
David Alexander Piatt (1870-1939) who married Mary Estella Culver (1873-1913) and lived near Yankee Lake
Second marriage
Edit
In 1872, after the death of Minnie, William married Phoebe Hubbard (1853-1910)
Civil War
Edit
William was a farmer and he fought in the Civil War from 1864 to 1865, as a private in Company K in the 20th Regiment of the New York Provisional Cavalry. He enlisted on January 20, 1864 and was discharged on August 09, 1865 in Louisville, Kentucky.
Mamakating township
Edit
The family appears in the 1880 US Census living in Mamakating Township, Sullivan County, New York under the names "William Piett" and "Phebey Piett". In 1900 they were still living in Mamakating Township and in the census Phoebe was listed as "Phibe J. Piatt".
William L. Piatt. After an illness of long duration ... The funeral will be held Friday ... .
Community content is available under
CC-BY-SA
unless otherwise noted.