Biography
William Huntington was born circa 1600 in England, United Kingdom and died 5 December 1689 Amesbury, Essex County, Massachusetts, United States of unspecified causes. He married Joanna Unknown (c1600-1663) 8 July 1643 in Salisbury, Essex County, Massachusetts, United States.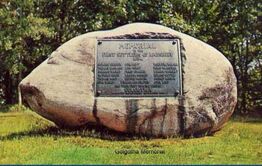 In 1640, the first Puritan settlers arrived to Amesbury, Massachusetts; their first burying ground was on a hill overlooking the Powow River, now referred to as Golgotha. The grave stones or markers in this first burying ground have long since disappeared, along with the identity of the people buried here. In 1903, the Amesbury Founders Memorial was erected by the Amesbury Improvement Association, to mark the site of Amesbury's first burying ground. This person is listed there.
At a general meeting of the freemen of Salisbury, Massachusetts on 10/26/1642, it was ordered that 30 families should remove to the West side of the Powow River, the dividing line between Salisbury & Amesbury, Massachusetts. William's was probably one of the families who then crossed the river and became one of the pioneers in the new settlement of Amesbury, Massachusetts, then called "Salisbury New Towne". He, however, retained possession of his share in the old Salisbury, Massachusetts as he was recorded as "townsman and commoner" there in March 1650.
Tradition makes William Huntington a religious man and that he was a man of enterprise and of a thoroughly English spirit is evinced by his occupancy of that exposed outpost of the English settlements of that day - opposition to French encroachments being the mainspring to the settlement of that frontier town.
Source: The Huntington Family In America 1633-1915 - Page 15-16.
Children
Siblings
Residences
Research Notes
Simon Huntington
The relationship to Simon Huntington (1583-1633) IS NOT IN ANYWAY PROVEN ONLY SPECULATED. Ships records do not show a William Huntington traveled to America with the rest of the family.
See Also
Footnotes (including sources)