Company Surgeon for the Winthrop Fleet
Died soon after migration to America
Biography
Dr. William Gager was born before 1592 in LIttle Waldingfield, Suffolk, England to John Gager (1570-) and died 20 September 1630 Charlestown, Suffolk County, Massachusetts of unspecified causes. He married Mrs. William Gager (1596-1630) 1618 in Suffolk, England.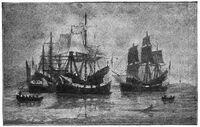 This family were some of the 700+ Passengers of the Winthrop Fleet which sailed from England to settle the Massachusetts Bay Colony at Salem in 1630 under the guidance of Gov. John Winthrop. It is reported that during the first year nearly 200 of these colonists died and another 100 returned to England. The remaining settlers either stayed in Salem or moved on to Boston or Watertown.
Dr. Gager was recruited by John Winthrop to be the company surgeon. He traveled in 1630 to America, possible in one of six later ships as his wife gave birth in England in May 1630, well after the departure of the main fleet. Except for his oldest son, John, all died soon by 1630.
Sarah Gager (1618-1627) - Died in England
John Gager (1620-1703) - Only child to survive to adulthood
William Gager (1622-1622) - Died in England
William Gager (1623-1626) - Died in England
Rebecca Gager (1625-1625) - Died in England
William Gager (1626-1626) - Died in England
Thomas Gager (1627-1627) - Died in England
Sarah Gager (1628-1630) - Died in America
Rebecca Gager (1630-1630) - Born in England (May 1630) - died in America.
Children
Siblings
Residences
See Also
Footnotes (including sources)
Community content is available under
CC-BY-SA
unless otherwise noted.