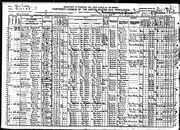 Sergeant William Edward Ensko (1888-1918) was a in the US Army and was killed in a car crash in France during World War I. (b. June 29, 1888; Manhattan, New York City, New York, USA - d. July 28, 1918; France)
He was the son of Robert F. Ensko I (1855-1934) and Mary Elizabeth Bleakley (1858-?).
His siblings include: Robert Ensko II (1880-1971) who worked as a lace dealer and married Leah X (1891-1972); Charlotte Ensko (1882-after1930) aka Lottie Ensko, who married a Horn; Lamont N. Ensko (1890-1987) who worked in the family silver business and married Bernice X (c1890-before1987) but had no children; Stephen Guernsey Cook Ensko (1896-1969) who married Dorothea X (1892-1977) and worked in the family silver business; Elathene Amanda Ensko II (1898-1981) who married George Christie (c1895-?).
William married Alma Dorothy X (1891-1984) before joining the Army.
318th Engineer Regiment, 6th Infantry Division.
Death reported in the Brooklyn Eagle on Thursday, August 15, 1918. "Sergeant William E. Ensko. Mrs. Mary E. Ensko, of 1383 Dean street, has been notified by the War Department that her son, Sergeant William Edward Ensko of Company A, 318th Pioneer Engineers, was killed in an automobile accident at the front on July 28. He was born in New York City, 30 years ago, where he was educated. Sergeant Ensko resigned a responsible position to enlist at Port Slocum last September. He lived at Freeport, L. I., where he was a member of the Freeport Lodge of Elks. A brother, Corporal La Mont N. Ensko, is in France with Company B, 304th Machine Gun Battalion."
Plot A Row 28 Grave 14, Saint Mihiel American Cemetery, Thiaucourt, Lorraine, France
Community content is available under
CC-BY-SA
unless otherwise noted.