Biography
William Crosby was born 19 September 1808 in Knox County, Tennessee, United States to John Crosby (1785-1840) and Elizabeth Glenn Coleman (1785-1849) and died 5 October 1880 Kanab, Kane County, Utah, United States of unspecified causes. He married Sarah Jane Harmon (1808-1888) 4 March 1832 in Monroe County, Mississippi.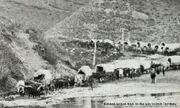 Numbered amoung the participants in the Mississippi Saints 1846 Pioneer Company, a early Mormon pioneer wagon train that left Mississippi in 1846 to join the Mormon exodus to Utah. This group Brigham Young's vanguard company and spent the winter of 1846/47 at Fort Pueblo where the were joined by soldiers of the sick detachment of the Mormon Battalion. They reached Salt Lake City in late summer of 1847.
In 1846, one year before the pioneer trek, he, with others, conducted a company of Saints across the plains from Monroe County, Mississippi, as far west as Pueblo, Colorado. He returned to Monroe county, Mississippi in the Fall and from there returned to Winter Quarters.
Meeting the Mormon Battalion - 12 Sept 1846 North bank of the Arkansas River, Northeast of Ford, Ford Co, Kansas, USA. As William Crosby and companions headed EAST from Pueblo, they met the Mormon Battalion headed WEST towards Santa Fe. Exact location is not known but this general area is derived from analysis of Battalion movements and John Brown's memo
Utah War (1857-58)
Interestingly, During the "Utah War" (1857-1858) William was "Mustered" into the 2nd Division, Nauvoo Legion, in the Great Salt Lake City in 1857 as a Company Sergeant. He brought with him his own rifle, 1/4 pound of powder, 1 pound of lead shot and 40 caps (he apparently had a cap lock rifle.)
William Talemicus Crosby (1830-1843)
Taylor Crosby (1836-1914)
Infant Harman Crosby (1843-1843) - See Journal of John Brown (1820-1896) who preached for her funeral on Cristmas Day, 1843.
Sarah Crosby (1844-) - Listed in Willard Richards 1848 Pioneer Company and the 1860 Utah Census ?
Children
Offspring of William Crosby and Sarah Jane Harmon (1808-1888)
Name
Birth
Death
Joined with
William Talemicus Crosby (1830-1843)
1830

Athens

, Monroe County, Mississippi, United States
March 1843

Athens

, Monroe County, Mississippi, United States


Taylor Crosby (1836-1914)
25 September 1836

Athens

, Monroe County, Mississippi, United States
23 July 1914 Kanab, Kane County, Utah, United States
Martha Adeline Hamblin (1842-1877) Martha Adeline Hamblin (1842-1877) Sarah Jane Hales (1858-1929)

Infant Harman Crosby (1843-1843)
December 1843

Athens

, Monroe County, Mississippi, United States
25 December 1843

Athens

, Monroe County, Mississippi, United States


Sarah Crosby (1844-)
1844

Athens

, Monroe County, Mississippi, United States
Utah, United States
Siblings
Residences
References
William Crosby

Crosby in Knox County, Tennessee

Crosby in Monroe County, Mississippi

Crosby in Utah County, Utah
Footnotes (including sources)