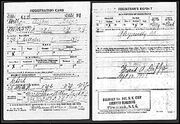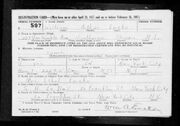 William Arthur Ensko III (1877-1942) Linen Business ( b. December 01, 1877, New York City, New York, USA - d. November 10, 1942, New York, or New Jersey, USA)
He was the son of William Arthur Ensko II (1850-1889) and Eloise Lindauer I (1852-1944).
He had the following siblings: Charles Edward Ensko I (1880-1952) who married Elizabeth Dempster MacIlwraith (1890-1987); Eloise Ensko (1882-1966) who never married; and Sophie Charlotte Ensko (c1884-?).
In 1870 and 1880 his parents appear in the Manhattan census and in 1900 the family was living at 244 Spring Street in Manhattan.
He married Ethel Minerva Beaver (1885-1957) on February 15, 1905 in Manhattan.
Together they had the following child:
In 1910 the family was living at 62 Morton Street in Manhattan. On September 17, 1918 William filled out a draft card saying he was living at 450 West 157th Street in Manhattan, and working as a clerk.
By 1930 he had moved to 387 Winkle Avenue, Hawthorne, Passaic County, New Jersey.
He was 5' 7.5" and weighed 170 pounds. He had a body mass index of 26.2.
He died on November 10, 1942 and was buried in Hackensack Cemetery in Hackensack, Bergen County, New Jersey.
Community content is available under
CC-BY-SA
unless otherwise noted.