Articles, images
People
Daily life

Before 1700

 •

1700-1749

 •

1750-1799

 •

1800-1819

 •

1820-1839

 •

1840-1859

 •

1860-1879

 •

1880-1899

 •

1900-1919

 •

1920-1939

 •

1940-1959

 •

1960-1979

 •

1980-1999

 •

2000-present

Research,
including queries

Westchester County, New York links

 •

Birth records

 •

Businesses

 •

Cemeteries

 •

Census data

 •

Census records

 •

Church records

 •

Court records

 •

Death records

 •

Directories

 •

Landowner records

 •

Marriage records

 •

Maps

 •

Military records

 •

Obituaries

 •

Probate records

 •

Queries
Westchester County is a primarily suburban county located in the U.S. state of New York with about 950,000 residents. It is part of the New York Metropolitan Area. It was named after Chester, in England, and the county seat is White Plains.
Westchester has a reported per capita personal income of $58,592, the eighth highest in the United States.[1]
History
[
]
The first Europeans to explore Westchester were Giovanni da Verrazzano in 1524 and Henry Hudson in 1609. The first European settlers were sponsored by the Dutch West India Company in the 1620s and 1630s. English settlers arrived from New England in the 1640s.
Westchester County was an original county of the Province of New York, one of twelve created in 1683. At the time, it also included the present Bronx County, which constituted the Town of Westchester and portions of three other towns: Yonkers, Eastchester, and Pelham. In 1846, a new town, West Farms, was created by secession from Westchester; in turn, in 1855, the Town of Morrisania seceded from West Farms. In 1873, the Town of Kingsbridge seceded from Yonkers.
In 1874, the western portion of the present Bronx County, consisting of the then towns of Kingsbridge, West Farms, and Morrisania, was transferred to New York County, and in 1895 the remainder of the present Bronx County, consisting of the Town of Westchester and portions of the towns of Eastchester and Pelham, was transferred to New York County. By that time, the portion of the town of Eastchester immediately north of the transferred portion had seceded from the town of Eastchester (1892) to become the City of Mount Vernon so that the Town of Eastchester had no border with New York City. In 1914, those parts of the then New York County which had been annexed from Westchester County were constituted the new Bronx County.
Today it is a rather affluent suburban county, home to many commuters from New York City as well as corporations and buisness, many which are located in White Plains.
Geography
[
]
According to the U.S. Census Bureau, the county has a total area of 1,295 km² (500 sq mi). 1,121 km² (433 sq mi) of it is land and 174 km² (67 sq mi) of it (13.45%) is water.
Westchester County is in the southeastern part of New York State.
The highest elevation in the county is a U.S. Coast and Geodetic Survey benchmark known as "Bailey" at 300 m (985 feet) above sea level in Mountain Lakes Park near the Connecticut state line. The lowest elevation is sea level, along both the Hudson and Long Island Sound.
In popular conception, Westchester County is generally divided into northern and southern areas. The northern portion (places north of Interstate 287/Cross Westchester Expressway) is often seen as rural and wealthy; the southern portion (White Plains and south) is more urban. These generalities, however, do not necessarily hold true in all communities. For example, Bronxville, Larchmont, Rye and Scarsdale in the southern portion are among the wealthiest communities in the entire US. Officially, the Westchester County Department of planning divides the county into North, Central and South sub-regions[1].
At the closest point, Westchester is only 2 miles north of Manhattan (from Broadway & Caryl Avenue in southern Yonkers to Broadway & West 228th Street in the Marble Hill section of Manhattan).
Cities, towns and villages
[
]
Westchester County has 6 cities, 19 towns and 20 villages. Any land area in the county that is not contained in one of the cities is in a town. A town may contain zero, one or multiple villages. A village can be located in more than one town, as two of Westchester's villages are.
Adjacent counties
[
]
Government
[
]
The county executive is Andrew J. Spano (D). The district attorney is Janet DiFiore (D, switched from GOP in Aug. 2007). The county clerk is Timothy C. Idoni (D).[2]
Board of Legislators
[
]
Main article:
Westchester County Board of Legislators
The Westchester County Board of Legislators is the legislative, policy-making branch of Westchester County. The County Board has seventeen members. The current board chair is William J. Ryan(D).[3]
Emergency Services
[
]
Main article:
Emergency services in Westchester County
Westchester County has a wide array of Emergency services and serves as the home to 58 fire departments, 42 ambulance services, a Haz-Mat team, a fire academy and a fire investigations unit.
Law Enforcement
[
]
Main article:
Law enforcement in Westchester County
There are currently 46 local police agencies located in Westchester County. As well as other County, State, Private, and Federal Law Enforcement agencies responsible for protecting Westchester County, these agencies frequently work with one another and other agencies located in the surrounding counties and states as well as the NYPD.
Politics
[
]
Presidential elections results

| Year | Republican | Democrat |
| --- | --- | --- |
| 2004 | 40.3% 159,628 | 58.1% 229,849 |
| 2000 | 37.5% 139,278 | 58.6% 218,010 |
| 1996 | 35.9% 123,719 | 56.9% 196,310 |
| 1992 | 40.1% 151,990 | 48.6% 184,300 |
| 1988 | 53.4% 197,956 | 45.8% 169,860 |
| 1984 | 58.7% 160,225 | 41.1% 229,005 |
| 1980 | 54.4% 198,552 | 35.6% 130,136 |
| 1976 | 54.3% 208,527 | 45.1% 173,153 |
| 1972 | 62.8% 262,901 | 36.9% 154,412 |
| 1968 | 50.3% 201,652 | 43.4% 173,954 |
| 1964 | 37.9% 149,052 | 62.0% 243,723 |
| 1960 | 56.6% 224,562 | 43.2% 171,410 |
Although the county used to lean Republican, it swung Democratic in the early 1990s much like other New York City suburbs, and nowadays Westchester voters tend to be far more Democratic than the rest of the nation. In fact, Westchester, after New York City and Albany, has produced the biggest margins for statewide Democrats in recent years. Democratic voters are mainly in the southern and central parts of the county. 58% of Westchester County voters chose John Kerry in the U.S. presidential election of November 2004, the highest total of any New York county outside New York City, Albany, or Tompkins (Ithaca, New York).
However, Westchester County is less Democratic in state and local elections, as well as in the northern part of the county. Hence, it voted for George Pataki with a margin of 23.07% against his Democratic opponent in the gubernatorial race of 2002, and of 26.22% in 1998. Governor Pataki hails from Westchester, where he previously served as mayor of Peekskill prior to being elected governor. Nita Lowey and Eliot Engel, both of whom are Democrats, represent most of the rest of the county (Engel's district also includes parts of the The Bronx, and Lowey's reaches into Rockland County). Westchester's third US Representative is Democrat John Hall, who was elected in 2006, defeating Republican incumbent Sue Kelly. Hall's district includes most of Northern Westchester County. Additionally, Jeanine Pirro, a prominent New York Republican who ran a short-lived campaign against Hillary Rodham Clinton for the U.S. Senate in 2006 served as district attorney of Westchester County. County Executive Spano is just the second Democrat to hold the post in at least a half-century. It also in 2006 sent county legislator Andrea Stewart-Cousins to the New York State Senate defeating 20 year incumbent Nicholas Spano in a rematch of the 2004 race in whence she lost by only 18 votes. Assembly Member Mike Spano switched parties in July of 2007 to become a Democrat. Current DA Janet DiFiore also switched parties from Republican to Democratic in August of 2007.
Westchester County was the home of former vice-president Nelson Rockefeller, who occupied the Kykuit mansion of the Rockefeller family 3,400-acre estate after the death of John D. Rockefeller; it is situated near the town of Pocantico Hills.
The County is also home to the former president Bill Clinton and New York Senator Hillary Rodham Clinton, who live in Chappaqua; as is it the childhood home of former First Lady Barbara Bush in Rye, where she attended the Rye Country Day School.
Demographics
[
]
As of the census² of 2000, there were 923,459 people, 337,142 households, and 235,325 families residing in the county. The population density was 824/km² (2,134/sq mi). The Census Bureau estimates 2006 population at 949,355.[4]
As of 2000, there were 349,445 housing units at an average density of 312/km² (807/sq mi). The racial makeup of the county was 71.35% White, 14.20% African American, 0.25% Native American, 4.48% Asian, 0.04% Pacific Islander, 6.63% from other races, and 3.05% from two or more races. Hispanic or Latino of any race were 15.61% of the population. 64.1% were Whites of non-Hispanic origin.
By 2005 the population was 61.6% non-Hispanic white. 14.9% of the population was African-Americans. Asians were 5.5% of the county population.[5]
As of 2000 The main European ethnic groups are Italian 31%, Irish 25%, German 5%, Polish 3%. 71.7% spoke English, 14.4% Spanish, 3.9% Italian, 1.1% Portuguese and 1.1% French as their first language.
'There were 337,142 households out of which 34.00% had children under the age of 18 living with them, 53.90% were married couples living together, 12.20% had a female householder with no husband present, and 30.20% were non-families. 25.70% of all households were made up of individuals and 10.30% had someone living alone who was 65 years of age or older. The average household size was 2.67 and the average family size was 3.21.
In the county the population was spread out with 25.00% under the age of 18, 7.20% from 18 to 24, 30.40% from 25 to 44, 23.50% from 45 to 64, and 14.00% who were 65 years of age or older. The median age was 38 years. For every 100 females there were 91.70 males. For every 100 females age 18 and over, there were 87.30 males.
According to 2006 HUD data, the median income for a household of one person in the county was $67,555 and the median income for a family of four was $96,500.
According to Census data, the per capita income for the county in 1999 was $36,726. The Bureau of Economic Analysis lists Westchester in 2004 with the per capita income of $58,952, the eighth highest in the country.[1] The Census Bureau reports that 6.40% of families and 8.7% (2003) of the population were below the poverty line, including 26.53% of those under age 18 and 7.60% of those age 65 or over.
The largest census reviewed area in Westchester County is the City of Yonkers, New York's fourth-largest city, with a population of almost 200,000. The smallest is the community of Scotts Corners in the town of Pound Ridge with a population of 624.
Population timeline
[
]
Transportation
[
]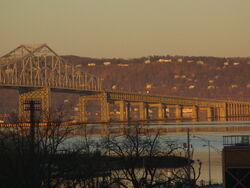 Westchester County is served by Interstate 87 (the New York State Thruway), Interstate 95, Interstate 287 and Interstate 684. Parkways in the county include the Bronx River Parkway, the Cross County Parkway, the Hutchinson River Parkway, the Saw Mill River Parkway, the Sprain Brook Parkway and the Taconic State Parkway. The Tappan Zee Bridge connects Tarrytown to Rockland County across the Hudson River. The Bear Mountain Bridge crosses the Hudson from Cortlandt to Orange County. The combination of these numerous highways, proximity to New York City, and the county's large population all lead to substantial traffic enforcement (as seen in at least one Seinfeld episode) and very busy local courts.
The development corridors in the county have defined sections and follow transportation corridors. The main north-south corridors are, from west to east, the U.S. Route 9/Albany Post Rd/Broadway Corridor along the Hudson River from Yonkers in the South to Peekskill/Cortlandt in the North. The Saw Mill River Parkway Corridor traverses the country in a north-eastern path, beginning in Yonkers, and terminating at I-684 in Bedford, mostly following the path of the Putnam Branch of the New York Central Railroad, which was abandoned in March 1970 (and which has largely been replaced by a paved path known as the South County and North County Trailways). The Sprain Brook Parkway traverses the county's midsection from a point in Yonkers where it breaks off from the Bronx River Parkway until Hawthorne about 15 miles north where it merges with the Taconic State Parkway and continues until I-90 near Albany. The Hutchinson River Parkway lines the eastern county, from the Bronx (terminating at the Long Island crossing - the Whitestone Bridge) until the Connecticut state line in Greenwich, where it becomes the Merritt Parkway. I-684 begins at a junction with the Hutchinson River Parkway and I-287 in Harrison, and continues north into Putnam County (with a brief stretch in Greenwich) through Bedford and North Salem. The eastern most corridor is the I-95/New England Thruway which traverses the county on the Long Island Sound, from the Pelhams through the Town of Rye and into Connecticut. The East-West corridors are the Cross County Parkway, which traverses the southern county from Yonkers in the west through New Rochelle in the east, terminating at the Hutchinson River Parkway. The Cross Westchester Expressway/I-287 is the mid-county corridor spanning from the Tappan-Zee Bridge in Tarrytown to the west to I-95/New England Thruway in the east. The northern-most corridor is that approximating the US-202 route from Cortlandt, and the Bear Mountain Bridge, to Lewisboro and the Connecticut border. But unlike the more southerly corridors, US-202 is for the most part not a limited-access highway and has frequent traffic lights.
Robert Moses and others once proposed a bridge connecting Westchester with Nassau County, most likely using I-287 to do so. Public opposition was fierce, and the New York state government abandoned the plan.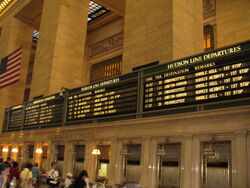 Commuter train service in Westchester is provided by Metro-North Railroad (operated by the Metropolitan Transportation Authority). Metro-North operates three lines in the county; west to east, they are the Hudson, the Harlem and the New Haven lines, each of which stops in the Bronx between Westchester and Manhattan. Amtrak serves Croton-Harmon, New Rochelle and Yonkers. There are plans for a cross-county rail line to connect all three lines and provide easier access to Stamford.
Metro-North also operates a ferry service between Haverstraw, in Rockland County and Ossining. Plans are currently underway to operate a ferry between Haverstraw and Yonkers with a direct route to New York City's Financial District.
Bus service is provided by the Bee-Line Bus System (operated by the Westchester County Department of Transportation) both within Westchester and to Manhattan (BxM4C). The MTA Bus Company also runs the BxM3 to and from Getty Square in Yonkers to Midtown Manhattan.
Westchester County Airport is adjacent to White Plains.
Media In Westchester
[
]
There are quite a few county-wide media outlets, including:
Westchester Magazine, an upscale lifestyle magazine focusing on Westchester County and its environs.
The Journal News, a daily newspaper, owned by Gannett Company, Inc.. WCBS-TV operates a news-bureau in conjunction with The Journal News.
The Hudson Independent, a monthly news paper serving Tarrytown, Sleepy Hollow & Irvington.
InTown Westchester, a monthly lifestyle magazine published by The Journal News and Gannett.
The Westchester County Business Journal, a weekly newspaper published by Westfair Communications Inc..
The Westchester WAG a Magazine of local people, events, and lifestyles.
News 12 Westchester, a cable news station owned by Cablevision.
WFAS (103.9 FM), a radio station focusing on Westchester.
WXPK (107.1 FM), or The Peak, owned by Pamal Broadcasting.
WRTN (93.5 FM), a radio station broadcasting from New Rochelle. Varied programming includes news, education, and music. Part of LinkUp Media, an all-inclusive Caribbean media company.
RNN, a news station owned by WRNN License Company, LLC.
Westchester.com, a community news and information website that focuses on Westchester County.
Education
[
]
Main article:
Education in Westchester County
Westchester County contains 48 public school districts,[6] 118 private schools and 14 colleges/universities.
Libraries
[
]
Main article:
Westchester Library System
Westchester County is served by the Westchester Library System which was established in 1958 and today comprises 38 public libraries.
Historic and cultural attractions
[
]
Interesting facts
[
]
In the Marvel Comics universe, Charles Xavier's School for Gifted Youngsters (the headquarters and training facility for the X-Men) is located in Salem Center in Westchester County.
Radio talk-show host Howard Stern started his professional DJ career at WRNW-FM radio in 1977, a low-power station located in Briarcliff Manor, the central part of the county.
Talk show host David Letterman resides in North Salem
Martha Stewart lives in Bedford, down the road from the estate of John Jay, founding father and first supreme court justice.
The publisher of the New York Journal in 1733, John Peter Zenger, covered the account of an election held at St. Paul's Church in the town of Eastchester (now Mount Vernon) and was arrested and tried for seditious libel. He was acquitted and thereby established the legal precedent for "freedom of the press." This later was incorporated as a basic freedom in the U.S. Bill of Rights.
Westchester County is often referred to as the "Golden Apple"
The origin of the fictional town Bedford Falls, where Frank Capra's "It's a Wonderful Life" is set, is a combination of the hamlet of Bedford Hills in Westchester County (a small suburban town about 45 minutes away from New York City), and Seneca Falls in Seneca County (a small town midway between Rochester and Syracuse).
The Trixie Belden series of "girl detective" mysteries is set in the fictional town of Sleepyside-on-Hudson, based on the village of Ossining in Westchester County.
Artist Alton Tobey resided for most of his life in the Larchmont section of the town of Mamaroneck in Westchester County.
Fictional TV characters Chandler Bing and Monica Bing move to Westchester County after the final episode of Friends.
Teen fiction series The Clique by Lisi Harrison is based in Westchester.
Westchester County is also often referred to as "The Beverly Hills of New York"
Westchester is profiled in the 1979 book by the Vanity Fair journalist Alex Shoumatoff, Westchester, Portrait of a County
References
[
]
See also
[
]
External links
[
]
Municipalities and communities of

Westchester County, New York

,

United States

Cities

Towns

Cortlandt

Eastchester

Greenburgh

Harrison

Lewisboro

Mamaroneck

Mount Kisco

Mount Pleasant

New Castle

Ossining

Pelham

Pound Ridge

Somers

Yorktown

Villages

Ardsley

Briarcliff Manor

Buchanan

Croton-on-Hudson

Dobbs Ferry

Elmsford

Harrison

Hastings-on-Hudson

Irvington

Larchmont

Mamaroneck

Mount Kisco

Ossining

Pelham

Pelham Manor

Pleasantville

Port Chester

Rye Brook

Sleepy Hollow

Tarrytown

Tuckahoe

CDPs

Armonk

Bedford

Bedford Hills

Chappaqua

Crompond

Crugers

Eastchester

Fairview

Golden's Bridge

Greenville

Hartsdale

Hawthorne

Heritage Hills

Jefferson Valley–Yorktown

Katonah

Lincolndale

Mohegan Lake

Montrose

Peach Lake

‡

Scotts Corners

Shenorock

Shrub Oak

Thornwood

Valhalla

Verplanck

Other
hamlets

Archville

Banksville

Bedford Corners

Cortlandt Manor

Eastview

Granite Springs

Millwood

Pocantico Hills

Purchase

Scarborough

South Salem

Sparta

Waccabuc

Wykagyl

Footnotes

‡This populated place also has portions in an adjacent county or counties
Topics

Bibliography

Demographics

Economy

Education

Geography

History

Healthcare

Museums

Music

Nickname

Parks

People

Politics

Sports

Symbols

Transportation

Regions

Adirondack Mountains

Capital District

Catskill Mountains

Central Region

(formerly Central-Leatherstocking)

Central New York

Champlain Valley

Finger Lakes

Holland Purchase

Hudson Highlands

Hudson Valley

Mohawk Valley

Niagara Frontier

North Country

Saint Lawrence Seaway

Shawangunks

Ski country

Southern Tier

Southtowns

Tech Valley

Thousand Islands

Tug Hill

Upstate

Western

Metro areas

Counties