West Pomeranian Voivodeship




Województwo zachodniopomorskie

—  Voivodeship  —

| | |
| --- | --- |
| Flag | Coat of arms |

Location within Poland

Division into counties
Coordinates (Szczecin):

53°25′N

14°35′E

 / 

53.417

,

14.583

Coordinates:

53°25′N

14°35′E

 / 

53.417

,

14.583

Country
 Poland
Capital
Szczecin
Counties

3 cities, 18 land counties *

Area
 • Total
22,896 km2 (8,840 sq mi)
Population (2006)
 • Total
1,693,533
 • Density
74/km2 (190/sq mi)
 • Urban
1,170,105
 • Rural
523,428
Car plates
Z
Website
http://www.szczecin.uw.gov.pl
* further divided into 114 gminas
West Pomeranian Voivodeship, (in Polish, województwo zachodniopomorskie [vɔjɛˈvut​͡stfɔ zaˈxɔdɲɔ pɔˈmɔrskʲɛ]), is a voivodeship in northwestern Poland. It borders on Pomeranian Voivodeship to the east, Greater Poland Voivodeship to the southeast, Lubusz Voivodeship to the south, the German federal-state of Mecklenburg-West Pomerania to the west, and the Baltic Sea to the north. Its capital and largest city is Szczecin.
It was established on January 1, 1999, out of the former Szczecin and Koszalin Voivodeships and parts of other neighboring voivodeships, pursuant to the Polish local government reforms adopted in 1998. It is named for the historical region of Pomerania (Polish: Pomorze). In spite of the name ("West Pomeranian"), the voivoideship does not include the most westerly parts of historical Pomerania, which lie in Germany's Vorpommern (see Western Pomerania).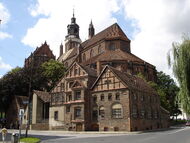 West Pomeranian Voivodeship is the fifth largest voivodeship of Poland in terms of area. Among the largest cities, of the region, are the capital Szczecin, as well as Koszalin, Stargard Szczeciński, and Świnoujście.
This is a picturesque region of the Baltic Sea coast, with many beaches, lakes and woodlands. Szczecin, Świnoujście and Police are important ports. Other major seaside towns include Międzyzdroje, Dziwnów, Kołobrzeg, and Mielno.
West Pomerania is considered one of the greenest regions of Poland, and one of the most attractive for tourists. It is characterized by incredible diversity of the landscape: beaches, hundreds of lakes, and forests full of wildlife (e.g. Wkrzanska Forest), spreading mainly up the hills of the glacial lakes areas. West Pomerania is also rich in various forms and styles of architecture that were built during the Middle Ages as well as the Gothic, Baroque, and Renaissance periods. There is a diverse repertoire of theaters, festivals, museums and galleries. During a few-day long annual Sea Festival in Szczecin, a number of free open air concerts take place. In Świnoujście during the summer, the FAMA Academic Youth Arts Festival takes place – an event with several years of tradition, which attracts not only young people but also older alumni. In Międzyzdroje, there is a Festival Of The Stars, which draws many popular actors. In Wolin, a Viking Festival takes place, which draws "Vikings" from all across Europe.
Another draw to the area is a wide array of health resorts. Brine and peloid, discovered in the 19th century, together with geothermal water resources, are popular attractions in Świnoujście, Kamień Pomorski and Połczyn Zdrój.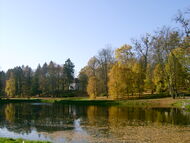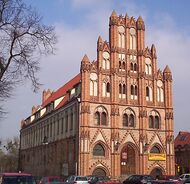 The voivodeship contains 64 cities and towns. These are listed below in descending order of population (according to official figures for 2006[1] ):
Szczecin (410,809)
Koszalin (107,783)
Stargard Szczeciński (70,534)
Kołobrzeg (44,794)
Świnoujście (40,899)
Szczecinek (38,756)
Police (34,284)
Wałcz (26,140)
Białogard (24,339)
Goleniów (22,448)
Gryfino (21,478)
Nowogard (16,745)
Gryfice (16,702)
Choszczno (15,753)
Świdwin (15,637)
Darłowo (14,380)
Barlinek (14,156)
Dębno (13,903)
Złocieniec (13,377)
Sławno (13,314)
Pyrzyce (12,642)
West Pomeranian Voivodeship is divided into 21 counties (powiats): 3 city counties and 18 land counties. These are further divided into 114 gminas.
The counties are listed in the following table (ordering within categories is by decreasing population).
English and
Polish names
Area
(km²)
Population
(2006)
Seat
Other towns
Total
gminas
City counties
Szczecin
301
410,809
1
Koszalin
84
107,783
1
Świnoujście
197
40,899
1
Land counties
Stargard County
powiat stargardzki
1,520
119,402
Stargard Szczeciński
Chociwel, Dobrzany, Ińsko, Suchań
10
Gryfino County
powiat gryfiński
1,870
82,813
Gryfino
Chojna, Mieszkowice, Trzcińsko-Zdrój, Cedynia, Moryń
9
Goleniów County
powiat goleniowski
1,617
78,738
Goleniów
Nowogard, Maszewo
6
Szczecinek County
powiat szczecinecki
1,765
77,232
Szczecinek
Borne Sulinowo, Barwice, Biały Bór
6
Kołobrzeg County
powiat kołobrzeski
726
76,089
Kołobrzeg
Gościno
7
Myślibórz County
powiat myśliborski
1,182
67,412
Myślibórz
Barlinek, Dębno
5
Police County
powiat policki
664
64,147
Police
Nowe Warpno
4
Koszalin County
powiat koszaliński
1,669
64,087
Koszalin *
Sianów, Bobolice, Polanów
8
Gryfice County
powiat gryficki
1,018
60,773
Gryfice
Trzebiatów, Płoty
6
Drawsko County
powiat drawski
1,764
58,073
Drawsko Pomorskie
Złocieniec, Czaplinek, Kalisz Pomorski
6
Sławno County
powiat sławieński
1,044
57,643
Sławno
Darłowo
6
Wałcz County
powiat wałecki
1,415
54,639
Wałcz
Mirosławiec, Człopa, Tuczno
5
Choszczno County
powiat choszczeński
1,328
50,066
Choszczno
Recz, Pełczyce, Drawno
6
Świdwin County
powiat świdwiński
1,093
48,920
Świdwin
Połczyn-Zdrój
6
Białogard County
powiat białogardzki
845
48,241
Białogard
Karlino, Tychowo
4
Kamień County
powiat kamieński
1,007
47,604
Kamień Pomorski
Międzyzdroje, Wolin, Dziwnów, Golczewo
6
Pyrzyce County
powiat pyrzycki
726
39,931
Pyrzyce
Lipiany
6
Łobez County
powiat łobeski
1,066
38,232
Łobez
Resko, Węgorzyno, Dobra
5
   NOTE: * seat not part of the county
Protected areas in West Pomeranian Voivodeship include two National Parks and seven Landscape Parks. These are listed below.
Most popular surnames in the region
[
edit
|
edit source
]
Nowak: 7,444
Kowalski: 6,345
Wiśniewski: 6,284
Industrial, science and technology parks
[
edit
|
edit source
]
The only domestic and international airport in West Pomeranian Voivodeship is Szczecin-Goleniów "Solidarność" Airport.

Wikimedia Commons has media related to:
Template:West Pomeranian Voivodeship
Archaeological cultures
Peoples
Major demographic events
Languages and dialects
Treaties
1200–1500
1500–1700

1700–present
Community content is available under
CC-BY-SA
unless otherwise noted.