Wayne County is a county located in the U.S. state of Pennsylvania. As of 2000, the population was 47,722. Its county seat is Honesdale6. The county was named for the Revolutionary War General Anthony Wayne.[1]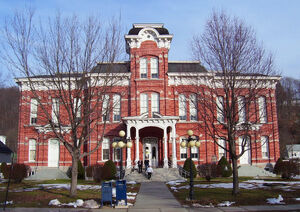 According to the U.S. Census Bureau, the county has a total area of 1,944 km² (751 sq mi). 1,889 km² (729 sq mi) of it is land and 55 km² (21 sq mi) of it (2.84%) is water.
The terrain of the county is varied. In the wider northern half, it is rugged along its borders; with higher hills found along the western border, lower ones in the east near the river and a wide plain in the middle. The southern portion tends to be swampier.
The highest elevation in the county, 2,656 feet (809.5 m), is the summit of Mount Ararat in Preston Township, near Orson. Two other summits at the north end of the same ridge also exceed the maximum contour of 2,640 feet (804.6 m). The lowest point is along the Delaware River at the Pike County line, approximately 680 feet (207.2 m).
As of the census² of 2000, there were 47,722 people, 18,350 households, and 12,936 families residing in the county. The population density was 25/km² (65/sq mi). There were 30,593 housing units at an average density of 16/km² (42/sq mi). The racial makeup of the county was 96.73% White, 1.59% Black or African American, 0.14% Native American, 0.38% Asian, 0.52% from other races, and 0.64% from two or more races. 1.70% of the population were Hispanic or Latino of any race.
There were 18,350 households out of which 30.30% had children under the age of 18 living with them, 57.20% were married couples living together, 8.90% had a female householder with no husband present, and 29.50% were non-families. 25.20% of all households were made up of individuals and 12.20% had someone living alone who was 65 years of age or older. The average household size was 2.50 and the average family size was 2.98.
In the county, the population was spread out with 24.00% under the age of 18, 6.10% from 18 to 24, 26.80% from 25 to 44, 25.60% from 45 to 64, and 17.50% who were 65 years of age or older. The median age was 41 years. For every 100 females there were 100.70 males. For every 100 females age 18 and over, there were 98.50 males.
As of May 2007, there are 29,844 registered voters in Wayne County [1].
The current and newly elected Commissioners for Wayne County, as of November 2007 are Anthony Herzog (R) Chairman, Brian Smith (R), and Wendell Kay (D).
Under Pennsylvania law, there are four types of incorporated municipalities: cities, boroughs, townships, and, in at most two cases, towns. The following boroughs and townships are located in Wayne County:
Coordinates: 41°39′N 75°19′W / 41.65, -75.31
Community content is available under
CC-BY-SA
unless otherwise noted.