Washington Parish (French: Paroisse de Washington) is a parish located in the U.S. state of Louisiana. Its parish seat is Franklinton. In 2000, its population was 43,926.
Washington Parish is part of the Bogalusa Micropolitan Statistical Area as well as the New Orleans–Metairie–Bogalusa Combined Statistical Area.
Washington Parish was formed in 1819 by splitting off from St. Tammany Parish. Franklinton became the parish seat on February 10, 1821. Washington Parish is the most northeasterly of what are called the Florida Parishes, for it was prior to 1821 a legal part of Spanish West Florida.
There are two articles about the history of Washington Parish:
There is also a book which is online, "Bogalusa Story" by C. W. Goodyear.
The Washington Parish Government is a Home Rule Charter or "President-Council" form of Government. Its current President is Richard N. Thomas, Jr.
The parish has a total area of 676 square miles (1,750 km2), of which, 670 square miles (1,700 km2) of it is land and 6 square miles (16 km2) of it (0.95%) is water.
Adjacent counties and parishes
[
edit
|
edit source
]
Washington Parish is currently known for its agriculture, particularly watermelons, as well as its timber and paper industry.
In 1906, The Great Southern Lumber Company started a sawmill in Bogalusa. It was the first to introduce reforestation in order to sustain the timber industry locally. It later started a paper mill and other related businesses in the area.
The Great Southern Lumber Company was bought several times and is now called Temple-Inland Corporation which is the largest employer in the parish.
Census
Pop.
%±
1900
9,628

—

1910
18,886

96.2

%
1920
24,164

27.9

%
1930
29,904

23.8

%
1940
34,443

15.2

%
1950
38,371

11.4

%
1960
44,015

14.7

%
1970
41,987

−4.6

%
1980
44,207

5.3

%
1990
43,185

−2.3

%
2000
43,926

1.7

%
Est. 2006
44,750
[1]

1.9

%
Washington Parish Census Data[2]
As of the census[3] of 2000, there were 43,926 people, 16,467 households, and 11,642 families residing in the parish. The population density was 66 people per square mile (25/km²). There were 19,106 housing units at an average density of 28 per square mile (11/km²). The racial makeup of the parish was 67.42% White, 31.53% Black or African American, 0.23% Native American, 0.17% Asian, 0.11% from other races, and 0.54% from two or more races. 0.76% of the population were Hispanic or Latino of any race.
There were 16,467 households out of which 32.70% had children under the age of 18 living with them, 49.30% were married couples living together, 17.10% had a female householder with no husband present, and 29.30% were non-families. 26.60% of all households were made up of individuals and 12.50% had someone living alone who was 65 years of age or older. The average household size was 2.56 and the average family size was 3.09.
In the parish the population was spread out with 26.80% under the age of 18, 9.50% from 18 to 24, 26.70% from 25 to 44, 22.60% from 45 to 64, and 14.30% who were 65 years of age or older. The median age was 36 years. For every 100 females there were 95.40 males. For every 100 females age 18 and over, there were 92.80 males.
The median income for a household in the parish was $24,264, and the median income for a family was $29,480. Males had a median income of $27,964 versus $17,709 for females. The per capita income for the parish was $12,915. About 19.40% of families and 24.70% of the population were below the poverty line, including 32.20% of those under age 18 and 20.40% of those age 65 or over.
Bogalusa is home to the headquarters of the 205th Engineer Battalion of the 225th Engineer Brigade.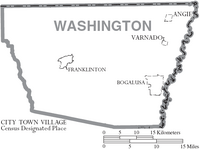 Students outside of the city of Bogalusa attend Washington Parish School System.
Students within the city of Bogalusa attend Bogalusa City Schools.
Louisiana Technical College - Sullivan Campus is located in Bogalusa.
Notable natives and residents
[
edit
|
edit source
]
Louisiana Department of Public Safety and Corrections operates the B.B. "Sixty" Rayburn Correctional Center in an unincorporated section of Washington Parish.[4]
Geology
Coordinates: 30°51′N 90°02′W / 30.85, -90.04
Community content is available under
CC-BY-SA
unless otherwise noted.