Ward Cheney
was born
23 February
1813
in
Hartford
,
Hartford County
,
Connecticut
to
George Cheney (1771-1829)
and
Electa Woodbridge (1760-1853)
and died
22 March
1876
in
South Manchester
,
Hartford County
,
Connecticut
of unspecified causes. He married
Caroline Jackson (1813-1865)
circa 1830 in
Hartford County
,
Connecticut
. Notable ancestors include
Henry II of England (1133-1189)
,
William I of England (1027-1087)
,
Charlemagne (747-814)
,
Hugh Capet (c940-996)
,
Alfred the Great (849-899)
. Ancestors are from
United States
, the
United Kingdom
,
England
,
France
,
Germany
,
Russia
,
Ukraine
,
Belgium
,
Spain
,
Portugal
,
Hungary
,
Israel
, the
Netherlands
,
Ireland
,
Italy
,
Turkey
, the
Byzantine Empire
,
Sweden
,
Belarus
,
Switzerland
,
Canaan
.
Biography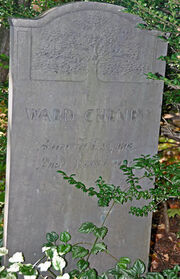 Ward Cheney was principal founder of the house of Cheney Brothers, and was most active in its business management. He first engaged in the dry-goods business in Providence, Rhode Island, with his brother Charles. When Charles moved to Ohio, Ward returned to South Manchester and found several brothers raising a Chinese mulberry, Morus multicaulis. The success of the experiments led he and brothers Frank and Rush to start a silk culturing operation in Burlington, New Jersey. In 1838 he and his brothers Ralph, Rush and Frank established the manufacturing firm of Cheney Brothers in South Manchester.
Family of Ward and Caroline Cheney
Arthur Cheney (1837-1878) - (14 January 1837 - December 1878) was the youngest of Ward's three children. He interested himself in the drama and built the Globe Theatre, Boston, originally called Selwyn's Theatre. It was managed with varying success by Selwyn, Floyd, and others, and, when it was burned, was rebuilt by Arthur and carried on at a loss.
In addition to Arthur, Ward Cheney also had two other children, Louis and Alice.
Children
Siblings
Vital Records
1850 US Federal Census
Recorded at Manchester, Hartford Co, CT. (Family of brother Charles Cheney is closeby).
Ward Cheeney - m/37 - b:CT - ocp: Silk Manufacturing
Caroline Cheeney - f/37 - b:RI
Arthur Cheeney - m/13 - b:CT
Patrick - m/39 - b:Ireland
Ann Sharp - f/40 - b:Ireland
Kate Sharp - f/3 - b:Ireland
Ann Caton - f/22 - b:Ireland
References
Residences
Footnotes (including sources)
Contributors
Community content is available under
CC-BY-SA
unless otherwise noted.