Vincent Price, Sr. was born 30 July 1871 in Troy, Rensselaer County, New York to Vincent Clarence Price (1832-1914) and Harriet Elizabeth White (1838-1917) and died 18 June 1948 of unspecified causes. He married Marguerite Cobb Wilcox (1874-1946) 1894 in Troy, Rensselaer County, New York.
Biography
Actor Vincent Price's father. Vincent Senior came to St. Louis from a Chicago suburb in 1902 to co-found the National Candy Company. He went on to become a national leader in the confectionery and corn syrup industries, and was a local civic leader who was active in work with the Boy Scouts, the Chamber of Commerce, and St. Peter's Episcopal Church.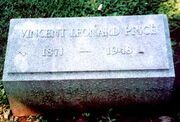 Children
Siblings
Vital Records
1930 US Federal Census
Recorded at Clayton, St Louis Co, Missouri Residence: 6320 Forsythe Blvd.
Vincent L. Price - m/59 - b:IL - head - ocp: president candy company
Margaret Price - f/56 - b:WI - wife
Vincent Price Jr. - m/18 - b:MO - Son
Zita Badnidistel - f/32 - b:MO - Servant
Edna Tupher - f/23 - b:MO - Servant
John M Hughs - m/41 - b:IN - Servant
Harriet Wilson - f/33 - b:IL - Daughter
Marvin Wilson - m/9 - b:MO - Grandson
Anne Wilson - f/7 - b:MO - Granddaughter
References
Residences
Footnotes (including sources)
Community content is available under
CC-BY-SA
unless otherwise noted.