User account "Bruce Whealton" is not registered.
Bruce's User page. (Bruce edits with user name User:Brucewhealton.)
I am very much interested in the Semantic Web and in Semantic MediaWiki projects. I started a project called My Family Lineage that I hope will really take off in a similar fashion. This wiki is very nicely done and I hope to learn how to create a similarly effective wiki.
I'd like to discuss with others the idea of using the Semantic Web and Linked Open Data principles to create the giant global graph or global database of information which is possible with Semantic MediaWiki and similar technologies.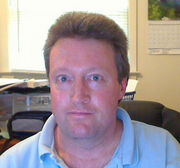 I am the owner of Future Wave Designs a web design and web development company. I also publish Word Salad Poetry Magazine an online Poetry Magazine with several hundred members and contributors. This expresses my varied interests from technology, to creative endeavors, words, language and communication.