This article is about the district. For its eponymous headquarters, see
Udupi
.
Udupi district




ಉಡುಪಿ ಜಿಲ್ಲೆ

—  

district

  —

Yakshagana, popular in Udupi dist.

Location in Karnataka, India
Coordinates:

13°21′N

74°45′E

 / 

13.35

,

74.75

Coordinates:

13°21′N

74°45′E

 / 

13.35

,

74.75

Country
 India
State
Karnataka
Region
Tulu Nadu
Division
Mysore Division
Established
1997
Headquarters
Udupi
Talukas
Udupi, Karkala, Kundapur
Government
 • District Commissioner
Dr.M.T. Reju
Area[1]
 • Total
3,880 km2 (1,500 sq mi)
Population [1][2]
 • Total
1,112,243
 • Density
290/km2 (740/sq mi)
Languages
 • Spoken languages
Tulu, Kannada, Konkani.
Time zone
IST (UTC+5:30)
PIN

576 101

ISO 3166 code
IN-KA-UD
Coastline
98 kilometres (61 mi)
Largest city
Udupi
Sex ratio
1130 ♂/♀
Literacy
81.25%
Lok Sabha constituency
Udupi-Chikmagalur
Precipitation
4,302 millimetres (169.4 in)
Website
udupi.nic.in/
Source
Udupi district in the Karnataka state of India was created in August 1997. The three northern taluks, Udupi, Kundapur and Karkal, were separated from Dakshina Kannada District to form Udupi district. Udupi district is surrounded by Uttara Kannada district in north, Dakshina Kannada district in southern direction. Shivamogga district borders on north east side and chikamagalur district on east. Arabian sea is on west of Udupi district. Udupi is famous for Udupi cuisine originated in the district as well as at Ashta Matha, i.e., eight Matts,Sri Krishna Temple and Udupi Hotels. Udupi is also one of oldest Educational Centres. Yakshagana, the drama and dance folk art is highly developed and popular in Udupi district as well as other coastal districts of Karnataka. The administrative headquarters of Udupi district is Udupi town. Population as per Census 2001 was 1,112,243 of which 18.55% were urban.[3]
According to the 2011 census Udupi district has a population of 1,177,908,[4] roughly equal to the nation of Timor-Leste[5] or the US state of Rhode Island.[6] This gives it a ranking of 403rd in India (out of a total of 640).[4] The district has a population density of 304 inhabitants per square kilometre (790 /sq mi) .[4] Its population growth rate over the decade 2001-2011 was 5.9%.[4] Udupi has a sex ratio of 1093 females for every 1000 males,[4] and a literacy rate of 86.29%.[4]
Udupi district is bound by Arabian sea in west and Western Ghats (world heritage site) in the east. Land nearer to sea is plain with small hills and paddy fields, coconut gardens etc. Land bordering wesern ghats in the east is covered with forests and hilly terrain; the forests are very thick in some parts and Someswara Wildlife Sanctuary is located near Hebri and Someshwara and Mukambika Wild Life sanctuary is established near Kollur. The area surrounding Kollur is also thickly forested and villages are located in between forest area. Some parts of Kundapur Taluk and Karkala taluk are looking like Malenadu both in appearance covered with forests and greenary as well as in culture also. The district is harbouring rare species of flora and fauna. Tiger, King Cobra, deer, bison are some of the wild life seen in the district. Flora include rose wood, teak wood, some of rare plants and fungus.
Udupi is having tropical climate.[7]
Udupi was created out of the Dakshina Kannada district in the year August 1997. Udupi district consists of three taluks: Udipi, Karkala and Kundapura. Karnataka Legislative Assembly constituencies in Udupi district are: Kaup, Kundapur, Karkala, Baindur and Udupi. Brahmavara assembly constituency has now been merged with Udupi and Kundapura constituencies. Udupi, Karkala, Kaup and Kundapura assembly segments are now part of the Udupi-Chickmagalur parliamentary (Loksabha) constituency, whereas Baindur is now part of Shimoga Loksabha constituency. These changes took place during Loksabha general elections held in 2009..
Mr. Jayaprakash Hegde ( Udupi- Chikamagalur Loksabha constituency )( INC )
Members of Karnataka Legislative Assembly
Udupi has a literacy rate of 92%, high compared to other districts of Karnataka. Udupi also tops the 10th and 12th standard exams held every year by the Karnataka State Education Board.
Udupi district is home to internationally renowned educational institutions. The Manipal Academy of Higher Education (MAHE) runs schools, colleges and institutes of higher learning. Similarly, the Nitte Education Trust, located at Nitte, heads a large number of educational institutions.
Agriculture and horticulture
[
edit
|
edit source
]
The Udupi district was once thriving rice and coconut producer, but now not so. Also one can find arecanut (betelnut) gardens here and there. Cashew is also grown. Milk is procured from farmers by Karnataka Milk Federation which has a dairy processing plant at Manipal in the district. Recently few private entrepreneurs have started procurement and processing of milk.
Fishing in the district include inland fishing and deep sea fishing. Malpe is centre of fishing activities of the district. The Arabia sea is the prime sourse of fishing.
The district has mostly small scale industries. There is not any noteworthy industry at present, but few industries are coming up in the district. There are some red clay tile (Mangalore tile), cashew nut, coconut oil industries providing employment to hundreds. There is a printing press at Manipal belonging to Pai group doing high security printing like cheques, share certificates, mobile recharge coupons, various Indian universities question papers ...etc. The district (Undivded South Canara) was birthplace of Four public sector banks (PSB) namely Vijaya Bank, Canara Bank, Corporation Bank and Syndicate Bank. There were many small insurance companies before nationalization. There is divisional office of LIC at Udupi town. The district has branches of scheduled banks making density per population served above the national average of India. Some Computer software companies like Robosoft Technologies, SourceHub India Pvt Ltd & DataTree IT Services has set up their Corporate Office & Regional Office here. Robosoft has brought Udupi a significant place in the global IT scenario.
A thermal power plant has been set up at Nandikoor in Udupi district by Nagarjuna group for generating electricity. The plant has generated controversies with respect to environmental impact. Suzlon has set up manufacturing facility at Padubidre for making wind mills. Work for setting up of underground petroleum crude reserve at Padur ( Padoor ) in Udupi district by central government has commenced.[8] Environmentalists fear that such large projects will destroy evergreen forests in those areas once for all. Also causing severe pollution of environment.
The Udupi district has two national highways passing through, one is NH-17 and another is NH-13. The national highway 17 which moves in north and south direction connects Udupi with cities like Mangalore, Karwar, Murudeshwara, Kochi, Madgaon, Goa,[9] Ratnagiri and Mumbai. Another national highway 13 connects district with Shimoga, Bijapura, Solapur, Chitradurga and Hospet.The district has network of bituminised roads connecting district centre with moffusil areas. The Konkan railway connects district with neighboring districts and states. The major railway stations are Udupi and Kundapura. At present nearest airport is Mangalore International Airport at Bajpe which is at 55 Kilometer from the town of Udupi.
The primary languages of Udupi district are Tulu, Kannada & Konkani. The Udupi and Dakshina Kannada districts are referred to as Tulu Nadu, as they constitute the Tulu-majority region. Inscriptions in the Tulu languages are found in and around the village of Barkur, the ancient capital of Tulu Nadu. Kundagannada which is the dialect of Kannada is spoken predominantly in KundapurTaluk, Hebri,and Brahmavar. Konkani is spoken by the people of Gouda Saraswat Brahmins and Mangalorean Catholics in Udupi District. The Muslims in Udupi district speak Beary Bashe and some Muslims in Baindur speak the Nawayathi language.
The famous Udupi Krishna Temple is located in Udupi, which is visited by western tourists also.[9] Udupi is the place where Sri Madhwacharya,one of the greatest proponents of the Vaishnava faith began his philosophical journey
Kuthpady is known for the Subramanya temples, which are visited every year thousands of pilgrims during Subramanya Shrasthi, which falls in November–December It is also home to Brahma Vishnu Maheshwara Temple (Kanangi Temple) Satyayuga Yogashrama and Ramakrishna Bhajana Mandira.
Udupi food is considered best and most famous[9] in entire Karnataka. Udupi restaurants serving Udupi cuisine are popular all over India and have found its way into other countries also. Udupi (Udipi) restaurants are typically south Indian vegetarian restaurants. In Mumbai or Hyderabad, Chennai and Bangalore, Udupi restaurants are famous for tasty vegetarian food and courteous service. Masala Dosa,which is wrapped around a filling of onion and potato with ghee, is said to be invented by Udupi Hotels.[9]
Udupi district has richly contributed to Kannada literature. Jnanapeetha award winner, Dr. K.Shivarama Karanth is from Kota, a small village in this district. Important Writers
Dr. K.Shivarama Karantha, Jnanapeetha Award winner, writer,novelist,environmentalist,dance reformer etc.
Gopalakrishna Adiga, Poet
Prof. A.V.Navada.
Santosh Kumar Gulvadi. Journalist,writer
B.Janardhana Bhat. Literary critic
Jayarama Karanth,poet
Yakshagana, the famous dance and drama art is very popular in this district. Several Yakshagana troups are established in this district. Yakshagana teaching schools are also established in this place. Nagaradhane, a form of worshipping serpant god is celebrated all along the district with much pomp and grandeur. Nagaradhane is conducted entire night and thousands of people watch the worship which includes dance by vaidya, pooja by priest, various forms of rangoli drawings etc. Bhoothakola, aatikalenja, Kadyanata etc. are other forms of nature worship prevailing in the district.
Rural spectator sports of the district include Kambala, Cock fight, Lagori,chinni-dandu etc.
Traditional drama forms exist in the district and school days and college days invariably include drama by local people and drama competitions are also held occasionally in the district.
Yakshagana artists from Udupi District
[
edit
|
edit source
]
Late Kalinga Navada
Late Naranappa Uppor
Veerabhadra Nayak
Vandaru Basava
Raghavendra Maiyya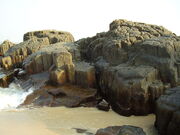 Sri durga Parameshwari temple muduhole karkada oldest temple of godess of stenth having followers all over India .Spcial pooja in Navarathri & " Dhekkebali Seva" in 4th day dhanur Masa,for the well being of all.
The Udupi district has thick evergreen forests in the eastern part. They form part of Sahyadri or Western Ghats of India. These forests have wide range of flora and fauna.
Someshwara Wildlife Sanctuary: About 40 km from Udupi. It contains rare species of animals, birds and medicinal plants.
Mookambika Wildlife Sanctuary: About 50 km from Udupi. Spread along the Kundapur-Kollur road, this sanctuary is generally off the tourist map.
Kudlū Theerthā Falls: About 42 km from Udupi. A waterfall located deep in the jungles of Western Ghats, close to Hebri town. This is a beautiful water fall in any standards, and may become very weak during Feb-May. With a height of about 300 feet, it falls directly into a pond which is considered holy by local people, because, sages meditated here thousands of years ago. There is one more water fall above Kudlu theertha, called Manga theertha (monkey theertha) named so because, only monkey can reach it as the path is very steep inside the forest.
Barkana Falls: About 54 km from Udupi. Located in the Western Ghats at the junction of Udupi, Shivamogga and Chikkamagaluru districts, the falls are a 45-minute walk from the Udupi-Shimoga state highway.
Belkal Theerthā Falls: About 50 km from Udupi. Cascading waterfalls, located deep in the Western Ghats. This falls is about 400 feet and there will be no water during Feb-May.
Arasina Gundi, near Dali village off Kollur, is a beautiful waterfall within the forest.
Jomlu Theertha :Near Belve village about 35 km from Udupi,[10] a small water fall about 20 feet height created by River Seethanadi. This is second water fall of this river, first one being Kudlu Theertha.
Kosalli Water falls near Byndoor, Kundapur Taluk is a beautiful spot situated at the northern boundary of the district.
The rivers Swarnā, Chakrā, Sitā, Varāhi and Kubjā contain beautiful and often unexplored river islands. Called Kudrūs, some of the islands are inhabited but lack basic facilities such as drinking water, electricity and transport. Examples of the islands include Skool Kudrū, Kannada Kudrū, Katte Kudrū, Benne Kudru, Bavali Kudru, Shetty Kudrū, Uppina Kudru, Kuru, Jaru Kudru etc.
Demand for a separate Tulunadu state
[
edit
|
edit source
]
The Tuluvas of Southern India are a separate culture from the Kannadigas within India. From India's independence and following the reorganization of states, the Tuluvas had been demanding official language status for Tulu and a separate state for themselves comprising the Udupi and South Canara Districts of Karnataka State and Kasargod District of Kerala State. This demand has grown weakened in recent years. Several organizations like the Tulu Rajya Horata Samiti have taken up the cause of the Tuluvas.[11][12][13][14]

Wikimedia Commons has media related to:
Community content is available under
CC-BY-SA
unless otherwise noted.