Truman O. Angell
was born
5 June
1810
in
North Providence
,
Providence County
,
Rhode Island
to
James Williams Angell (1776-1851)
and
Phebe Ann Morton (1786-1854)
and died
16 October
1887
in
Salt Lake City
,
Salt Lake County
,
Utah
of unspecified causes. He married
Polly Ann Johnson (1813-1876)
7 October 1832 in
China
,
Delaware County
,
New York
. He married
Susan Eliza Savage (1825-1893)
20 April 1851 in
Salt Lake City
,
Salt Lake County
,
Utah
. He married
Mary Ann Johnson (1836-1906)
17 June 1855 in
Salt Lake City
,
Salt Lake County
,
Utah
. Ancestors are from the
United States
.
Biography
Truman Osborn Angell - Chief Architect for The Church of Jesus Christ of Latter-day Saints.
A convert, he worked as a carpenter of major contribution for the Kirtland Temple soon after joining the Church, appointed superintendent of joiner work under the Chief Architect of the Nauvoo Temple, designer and Chief Architect for the Salt Lake Temple, Manti Temple, St. George Temple, and Logan Temple in Utah.
Working with President John Taylor as he had with Presidents Joseph Smith and Brigham Young, fate did not permit Truman to live to see the Salt Lake Temple finished. For more than thirty-five years he had toiled and labored on this one great structure. It was said that he knew every stone in its walls.
Marriage and Family =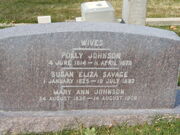 Children
Siblings
Offspring of James Williams Angell and Phebe Ann Morton (1786-1854)
Name
Birth
Death
Joined with


Jemima Angell (1804-1869)
4 October 1804 Camden, Oneida County, New York
16 July 1869 Wanship, Summit County, Utah
Valentine W. Young (c1800-1843)
William Stringham
Brigham Young (1801-1877)


Solomon Angell (1806-1881)
26 April 1806 Florence, Oneida County, New York
20 September 1881 Leeds, Washington County, Utah
Eunice Clark Young (1809-1879)
Lucinda Clark (1822-1904)
Anna Cajia Johanson (1835-1914)


Hiram Angell (1807-1829)
17 July 1807 Providence, Providence County, Rhode Island
7 September 1829 Providence, Providence County, Rhode Island


Truman Osborn Angell (1810-1887)
5 June 1810 North Providence, Providence County, Rhode Island
16 October 1887 Salt Lake City, Salt Lake County, Utah
Polly Ann Johnson (1813-1876)
Susan Eliza Savage (1825-1893)
Mary Ann Johnson (1836-1906)


Caroline Frances Angell (1825-1908)
3 October 1825 Providence, Providence County, Rhode Island, United States
28 October 1908 Bountiful, Davis County, Utah, United States
George David Varner Davis (1823-1870)
Joseph Holbrook (1806-1885)


Mary Ann Angell (1808-1882)
8 June 1808 North Providence, Providence County, Rhode Island
27 June 1882 Salt Lake City, Salt Lake County, Utah
Brigham Young (1801-1877)

Residences
Footnotes (including sources)
Contributors