Truman Bibbins Chaffee
was born
19 June
1804
in
Becket
,
Berkshire County
,
Massachusetts
,
United States
to
Jonathan Chaffee (1765-1848)
and
Sally Farnham (1771-1848)
and died
9 May
1861
in
Orwell
,
Ashtabula County
,
Ohio
,
United States
of unspecified causes. He married
Grace Hyde (1806-1856)
23 January 1827 in
Farmington
,
Trumbull County
,
Ohio
. Ancestors are from the
United States
.
Marriage and Family
Alpheus Chaffee (1827-1829)
Sydney Alvares Chaffee (1830-1860)
Orestes Parmeno Chaffee (1832-1908)
Louisa Matilda Chaffee (1835-1924)
Sherburne Howard Chaffee (1837-1913)
Nelson Chaffee (1839-)
Chaffee, Adna R I, Lt Gen (1842-1914): U.S. general, Civil War and Indian Wars Veteran, Military Governor of the Philippine Islands.

Chaffee, Adna R II, Maj Gen (1884-1941): (grandson) U.S. general, Veteran of WWI, Father of US Armored Forces, namesake of M-24 US Army Light Tank and Fort Chaffee, Arkansas.

Truman Everel Chaffee (1844-1862)
George William Chaffee (1847-1923)
Almond Chaffee (1848-)
Zorilda Jane Chaffee (1850-)
Clifton Elisha Chaffee (1852-1920)
Children
Siblings
Vital Records
South Orwell Gravestone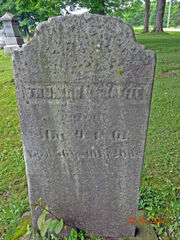 References
Residences
Footnotes (including sources)
Contributors
Community content is available under
CC-BY-SA
unless otherwise noted.