Tippecanoe County

,

Indiana

Tippecanoe County courthouse in Lafayette, Indiana


Location in the state of Indiana

Indiana's location in the U.S.
Founded
March 1, 1826
Named for
Kethtippecanoogi ("Place of the Succor Fish People" in Miami)
Seat
Lafayette
Largest city
Lafayette
Area
 - Total
 - Land
 - Water

503.07 sq mi (1,303 km²)
499.79 sq mi (1,294 km²)
3.28 sq mi (8 km²), 0.65%
Population
 - (2010)
 - Density

172,780
346/sq mi (133.48/km²)
Congressional district
4th
Time zone
Eastern: UTC-5/-4
Website
www.county.tippecanoe.in.us
Footnotes:  

Indiana county number 79
Tippecanoe County is a county located in the northwest quadrant of the U.S. state of Indiana. It was created in 1826 from Wabash County.[1] It is part of the Lafayette, Indiana, Metropolitan Statistical Area.
According to the 2010 census, the population was 172,780;[2] the 2009 population estimate was 167,964.[3] The county seat is Lafayette[4].
Tippecanoe County was formed March 1, 1826, and named for the anglicization of "Kethtippecanoogi", a Miami term meaning "place of the succor fish people." (Kriebel, Robert C. - Tippecanoe at 2000: A Hoosier County Recalls Its Past). The county is best known for the Battle of Tippecanoe and Purdue University. The Tippecanoe County Courthouse, built in 1881, is on the National Register of Historic Places.
According to the U.S. Census Bureau, the county has a total area of 503.07 square miles (1,302.95 km2), of which 499.79 square miles (1,294.45 km2) is land and 3.28 square miles (8.50 km2), or 0.65%, is water.[5]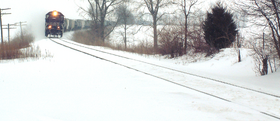 Climate chart for Lafayette, Indiana
J
F
M
A
M
J
J
A
S
O
N
D

temperatures in °C

•

precipitation totals in mm


source: The Weather Channel[6]
In recent years, temperatures in Lafayette have ranged from an average low of 17 °F (−8 °C) in January to a high of 86 °F (30 °C) in July, although a record low of −23 °F (−30.6 °C) was recorded in January 1985 and a record high of 105 °F (41 °C) was recorded in June 1988. Average monthly precipitation ranged from 1.58 inches (40 mm) inches in February to 4.24 inches (108 mm) inches in June.[6]
Three different railroad lines intersect in Tippecanoe County, all running through the Lafayette area. CSX Transportation operates a north-south line; Kankakee, Beaverville and Southern Railroad operates a line passing from the northwest to the southeast; and Norfolk Southern Railway operates a line coming from Fountain and Warren counties in the southwest to Delphi in the northeast, and beyond.[7]
The county contains one public-use airport: Purdue University Airport (LAF) in Lafayette, Indiana.[8]
The county government is a constitutional body, and is granted specific powers by the Constitution of Indiana, and by the Indiana Code.
County Council: The county council is the legislative branch of the county government and controls all the spending and revenue collection in the county. Representatives are elected from county districts. The council members serve four year terms. They are responsible for setting salaries, the annual budget, and special spending. The council also has limited authority to impose local taxes, in the form of an income and property tax that is subject to state level approval, excise taxes, and service taxes.[9][10]
Board of Commissioners: The executive body of the county is made of a board of commissioners. The commissioners are elected county-wide, in staggered terms, and each serves a four-year term. One of the commissioners, typically the most senior, serves as president. The commissioners are charged with executing the acts legislated by the council, collecting revenue, and managing the day-to-day functions of the county government.[9][10]
Court: The county maintains a small claims court that can handle some civil cases. The judge on the court is elected to a term of four years and must be a member of the Indiana Bar Association. The judge is assisted by a constable who is also elected to a four-year term. In some cases, court decisions can be appealed to the state level circuit court.[10]
County Officials: The county has several other elected offices, including sheriff, coroner, auditor, treasurer, recorder, surveyor, and circuit court clerk. Each of these elected officers serves a term of four years and oversees a different part of county government. Members elected to county government positions are required to declare party affiliations and to be residents of the county.[10]
Like the state of Indiana, Tippecanoe County has historically been politically conservative. But like the rest of Indiana, its political leanings at the national level have moved sharply from conservative towards moderate from 2005-2009. Due in large part to the presence of Purdue University, Tippecanoe County has become one of the most progressive counties of the state.
In the 2008 Democratic primary, Tippecanoe County was one of 10 (out of 92) Indiana counties to give the majority of its votes to Barack Obama.[11] In the 2008 Presidential election, Tippecanoe County was one of 15 Indiana counties to give the majority of its votes to Obama/Biden. Thanks to the sizable support of Purdue University students, Tippecanoe County played a pivotal role in Barack Obama's upset win in Indiana (49.9%-49.0%; 1,367,264 votes to 1,341,101 votes) by supporting the Democrat ticket of Barack Obama/Joe Biden 55.1%-43.5% over the Republican ticket of John McCain/Sarah Palin.[12]
Presidential Election Results (Tippecanoe County, IN): 1960–present: U.S. winner is represented by (W), IN winner is represented by (I), and the Tippecanoe County vote winner is represented by italicized number of votes received in the county.
Year
Democrat
Republican
Other
2008[12]
(W)(I) Obama/Biden 55.1% 37,781
McCain/Palin 43.5% 29,822
2004[13]
Kerry/Edwards 39.8% 20,818
(W)(I) G.W. Bush/Cheney 59% 30,897
2000[14]
Gore/Lieberman 39.4% 18,220
(W)(I) G.W. Bush/Cheney 56.4% 26,106
1996[15]
(W) Clinton/Gore 39.9% 17,232
(I) Dole/Kemp 49.5% 22,556
Perot 11.8% 5,394
1992[16]
(W) Clinton/Gore 37.2% 17,343
(I) G. Bush/Quayle 42.8% 23,050
Perot 19.2% 9,684
1988[17]
Dukakis/Bentsen 36.6% 16,256
(W)(I) G. Bush/Quayle 62.9% 27,897
1984[18]
Mondale/Ferraro 34.4% 15,789
(W)(I) Reagan/G. Bush 64.8% 29,706
1980[19]
Carter/Mondale 30.2% 14,636
(W)(I) Reagan/G. Bush 56.9% 27,589
Anderson 10.6% 5,141
1976[20]
(W) Carter/Mondale 37.5% 17,850
(I) Ford/Dole 59.7% 29,186
1972[21]
McGovern/Shriver 31.5% 14,598
(W)(I) Nixon/Agnew 68.1% 31,565
1968[22]
Humphrey/Muskie 35.5% 14,528
(W)(I) Nixon/Agnew 59.4% 24,352
Wallace 4.9% 2,000
1964[23]
(W)(I) L. Johnson/Humphrey 51.5% 20,257
Goldwater/Miller 48.3% 19,036
1960[24]
(W) Kennedy/L. Johnson 36.3% 14,041
(I) Nixon/Lodge 63.5% 24,572
Historical populations
Census
Pop.
%±
1830
7,187

—

1840
13,724

91.0

%
1850
19,377

41.2

%
1860
25,726

32.8

%
1870
33,515

30.3

%
1880
35,966

7.3

%
1890
35,078

−2.5

%
1900
38,659

10.2

%
1910
40,063

3.6

%
1920
42,813

6.9

%
1930
47,535

11.0

%
1940
51,020

7.3

%
1950
74,473

46.0

%
1960
89,122

19.7

%
1970
109,378

22.7

%
1980
121,702

11.3

%
1990
130,598

7.3

%
2000
148,955

14.1

%
2010
172,780

16.0

%
Source: United States Department of Commerce,
Bureau of the Census, Population Division[25]
According to the 2000 census, there were 148,955 people, 55,226 households, and 32,417 families residing in the county. The population density was 298 people per square mile (115/km²). There were 58,343 housing units at an average density of 117 per square mile (45/km²). The racial makeup of the county was 88.86% White, 2.52% Black or African American, 0.28% Native American, 4.46% Asian, 0.03% Pacific Islander, 2.48% from other races, and 1.37% from two or more races. 5.26% of the population were Hispanic or Latino of any race. 25.1% were of German, 13.7% American, 9.4% Irish and 9.1% English ancestry according to Census 2000.
There were 55,226 households out of which 28.50% had children under the age of 18 living with them, 46.90% were married couples living together, 8.30% had a female householder with no husband present, and 41.30% were non-families. 28.00% of all households were made up of individuals and 7.40% had someone living alone who was 65 years of age or older. The average household size was 2.42 and the average family size was 3.01.
In the county the population was spread out with 20.90% under the age of 18, 25.40% from 18 to 24, 27.10% from 25 to 44, 17.40% from 45 to 64, and 9.10% who were 65 years of age or older. The median age was 27 years. For every 100 females there were 105.40 males. For every 100 females age 18 and over, there were 105.10 males.
The median income for a household in the county was $38,652, and the median income for a family was $51,791. Males had a median income of $37,606 versus $25,142 for females. The per capita income for the county was $19,375. About 7.30% of families and 15.40% of the population were below the poverty line, including 12.10% of those under age 18 and 4.30% of those age 65 or over.[2]
Public schools in rural/suburban Tippecanoe County are administered by the Tippecanoe School Corporation, while those in the cities are under either the Lafayette School Corporation or West Lafayette Community School Corporation. Purdue and Ivy Tech each have campuses at other sites in Indiana.
Universities and colleges
High Schools
Middle Schools/Junior High Schools
Elementary Schools
Private Schools
Much of the economy of Tippecanoe County is centered in its two, largest communities: Lafayette and West Lafayette. Purdue University is by far the largest employer in the county. However, private industry and commerce also exist in the county. Major employers also include:
Sagamore Village Estates Corp - West Lafayette; Subaru-Indiana Automotive Inc - Lafayette; Caterpillar Inc - Lafayette; Fairfield Manufacturing Co Inc - Lafayette; St Elizabeth Medical Center - Lafayette; Alcoa Lafayette; Eli Lilly & Co - Lafayette; State Farm Operations Center - West Lafayette
Coordinates: 40°23′N 86°53′W / 40.39, -86.89
Community content is available under
CC-BY-SA
unless otherwise noted.