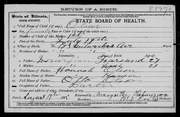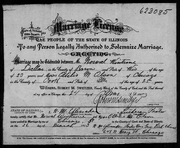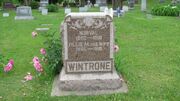 Tillie Olson (1885-1918) born as Oline Matilda Olson was a private secretary at the O'Connor and Goldberg Shoe Store in Chicago, Illinois. She was a homesteader at Devil's Lake in North Dakota and she died during the 1918 influenza pandemic. (b. July 1885, Chicago, Cook County, Illinois, USA - d. 1918, Devils Lake, Ramsey County, North Dakota, USA)
In Chicago Tillie worked in an office in the O'Connor and Goldberg shoe store as a private secretary. The economist Milton Friedman worked at the same store in 1932. Tillie appeared in the 1900 US Census living at 147 Milwaukee Avenue in Chicago, Illinois. In the 1910 Chicago City Directory she is listed as a "clerk" working at 262 5th Avenue and living at 465 Milwaukee Avenue. Tillie's family would visit her mother's siblings in Dallas, Wisconsin.
In Dallas, Wisconsin she met and married Norval Wintrone (1890-1918) and they married on March 26, 1913. She was listed as "Ollilis M. Olson". Norval chose to become a homesteader in Devil's Lake, North Dakota, so he would not have to serve in World War I.
Tille and Norval died within a few days of each other during the influenza pandemic of 1918-1919. Their youngest child also died. The influenza epidemic of 1918 killed 2,700 North Dakotans.
Hazel Wintrone, her surviving daughter was then raised, first, by Hannah Hansen and later by Jesse Clay and Mabel Olson.
Tillie and Norval were buried in the New Scandinavia Cemetery in Wisconsin.
Community content is available under
CC-BY-SA
unless otherwise noted.