Thomasine Lumpkin Mayo Sunderlin was born circa 1625 to William Lumpkin (1604-1671) and Tamesin Lumpkin (c1605-1683) and died 16 June 1709 Brewster, Barnstable County, Massachusetts of unspecified causes. She married Samuel Mayo (1620-1664) 1643 in Yarmouth, Barnstable County, Massachusetts.
Vital Records
Gravestone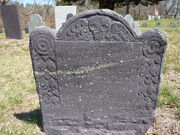 Gravestone Location: Old Burying Ground - Brewster, Massachusetts Imputed Life span : 1625-1709 (84 years)
Gravestone Inscription:
Here Lyes ye body of Mrs. Tamsen Sunderlin wife to Mr. John Sunderlin Decd. June ye 16 1709 in ye 84 year of her age.
Children
Offspring of Samuel Mayo and Thomasine Lumpkin (1626-1709)
Name
Birth
Death
Joined with
Mary Mayo (1645-1711)
1645 Barnstable, Barnstable County, Massachusetts
26 January 1711 Harwich, Barnstable County, Massachusetts
Jonathan Bangs (1640-1728)


Samuel Mayo (1647-1668)




Hannah Mayo (1650-1671)



Elizabeth Mayo (1653-1696)
22 May 1653 Barnstable, Barnstable County, Massachusetts
4 December 1696 Eastham, Barnstable County, Massachusetts
Samuel Treat (1648-1716)

Joseph Mayo (1654-1712)
1654 Oyster Bay, Nassau County, New York
1712
Sarah Short (1659-1710) Sarah Short (1659-1710) Jane Brown (1653-1737)

John Mayo (1655-1725)
15 December 1652 Eastham, Barnstable County, Massachusetts
1 February 1726 Harwich, Barnstable County, Massachusetts
Hannah Freeman (1665-1743)


Nathaniel Mayo (1658-)



Sarah Mayo (1660-1745)
19 December 1660 Boston, Suffolk County, Massachusetts
5 March 1745 Eastham, Barnstable County, Massachusetts
Edmund Freeman (1657-1719)

Mercy Mayo (1664-1749)
15 July 1665 Boston, Suffolk County, Massachusetts
20 January 1748

West Brewster

, Barnstable County, Massachusetts
Samuel Sears (1663-1741)
,
Siblings
Residences
Footnotes (including sources)