Sir Thomas Southworth of Samlesbury was born circa 1497 in Samlesbury Hall, Samlesbury, Lancashire, England to John Southworth (c1478-1519) and Helen Langton (c1482-1519) and died 13 January 1546 Samlesbury Hall, Samlesbury, Lancashire, England of unspecified causes. He married Ann Stanley (c1500-) 1525 JL in Lancashire, England. He married Margery Boteler (1503-) 1521 JL in Lancashire, England.
Biography
Sir Thomas Southworth Knight, of Samlesbury (son of Sir John Southworth, Sheriff of Lancashire & Helen de Langton) was born about 1497, of Samlesbury, Lancashire, England, and died on 13 January 1546.
He fought at Flodden Field (9 Sept 1513), was High Sheriff of Lancashire (1542), and enlarged Samlesbury Hall (1542-1545) (VCH Lanc. Vl, 306)
Battle of Flodden 1513
Weis' Ancestral Roots. . ." (9:37) He fought at Flodden on 9 September 1513. 160
The Battle of Flodden was part of a conflict between the Kingdom of England and the Kingdom of Scotland. The battle was fought in the county of Northumberland in northern England on 9 September 1513, between an invading Scots army under King James IV and an English army commanded by the Earl of Surrey. It was a decisive English victory. In terms of troop numbers, it was the largest battle fought between the two Kingdoms. James IV was killed in the battle, becoming the last monarch from the British Isles to suffer such a death.
Samlesbury Hall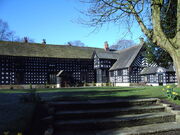 Samlesbury Hall, principal residence of the Southworth Family for much of the 14th-17th centuries, is a manor house built in 1325 which has been many things since then including a public house and girls' boarding school, but since 1925, when it was saved from being demolished for its timber, it has been administered by a registered charitable trust, the Samlesbury Hall Trust. This Grade I listed medieval manor house attracts over 50,000 visitors each year.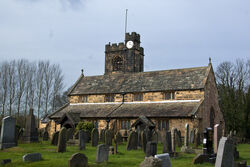 Sir Thomas Southworth's funerary armour (1546) is on display at the Samlesbury parish church, St. Leonard the Less , built in 1180 by his great ancestors.
Church of England
1534 Church of England separates from Rome, but the Southworth family remains stanchly Catholic. See history for family of son John Southworth.
Marriage and Family
He married (1) Ann Stanley (div) & (2) Margery Boteler, daughter of Sir Thomas Boteler of Bewsey and Margaret Delves, on 9 August 1518.
Children of 2nd wife include
Margaret b. c 1524. Married Christopher Preston.
John b. c 1526, d. 3 Nov 1595. Married Mary Ashton.-
Children
Siblings
References
Residences
Footnotes (including sources)