Thomas Olcott II was born 2 February 1613 in London, Middlesex, England to Thomas Olcott (1581-1627) and Margaret Hyde (1588-1678) and died 1654 Hartford, Hartford County, Connecticut of unspecified causes. He married Abigail Porter (1615-1693) 1634 in Massachusetts.
Biography
Thomas and his brother George sailed in 1630 to America.
Summary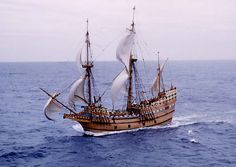 Thomas Olcott (or Alcock) was a passenger on the English Winthrop Fleet, which sailed under direction from Gov. John Winthrop from England in 1630 bound for to settle Massachusetts Bay Colony, landing first at Salem. The ship arrived safe at Massachusetts Bay. But nearly 200 of the 600 passengers onboard died in the first year there.
First Founder of Hartford CT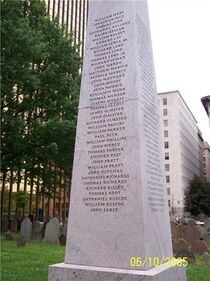 He is listed (with two brothers) as one of the first settlers on the Hartford Founders Monument. In 1633, the purtian preacher, Thomas Hooker (1586-1647) revolted against the authority of the English Church, and was forced to sail to America with many of his followers.
Finding that place to crowded they moved to the Connecticut River Valley, settling down north of the Dutch Territory in 1636. Here in 1638 they wrote the first constitution in America to create the new Colony of Connecticut (for which they retain their nickname as the Constitution State. Their central city is Hartford CT.
1640 Posse Leader
He appears in the local history in 1640 as one of two constables leading a posse of 10 armed men to disrupt the agricultural activities of nearby Dutch settlers were encroaching on the English territory.
Legacy
His genealogical book - The Descendants of Thomas Olcott: First Founder of Hartford contains his will, notes on his origin and connection to the surname, Alcock as well as several generations of descendants.
Children
Siblings
References =
The Descendants of Thomas Olcott: First Founder of Hartford -
Residences
Footnotes (including sources)