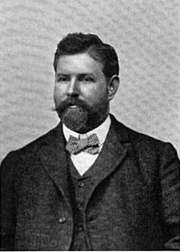 Thomas Moore Acken (1867-?) was born on 27 October 1867 at Ten Mile Run, Franklin Township, New Jersey.
Education
Edit
He attended Phillips Exeter Academy then graduated from New York University Medical College in 1893.
Biography
Edit
Acken, Thomas Moore, 1867. Class of 1893 Med. Born at Ten Mile Run, N. J., 1867; studied in public schools of New Jersey, and grammar and high schools at Exeter, N.H.; graduated M.D., New York University Medical College, 1893; Associate Professor, New York School of Clinical Medicine; Attending Physician to West Side German Dispensary, New York; practicing medicine in New York since 1893. Thomas Moore Acken, M.D., of Scotch descent, was born at Ten Mile Run, in Somerset County, New Jersey, on October 27, 1867. The maiden name of his mother was Mary Brown. His father was Albert Howell Acken, the son of John and Rebecca Clarkson Acken, and greatgrandson of Randolph Clarkson, an officer in the Revolutionary War. The subject of the present sketch left home at the age of nine years to make his own way in the world. For some years he worked on a New Jersey farm in the summers and attended school in the winters, working at odd jobs on holidays and during recreation hours. In this way he supported himself and made his way through the ordinary public schools. Leaving New Jersey he went to Exeter, New Hampshire, and there worked his way through the grammar and high schools. Having thus acquired a good academic education, he decided to enter the medical profession. Before beginning his medical career, however, he engaged in business for a time and while was graduated in 1893 with the degree of Doctor of Medicine. He thereupon engaged in the practice of this profession in New York, and has ever since remained therein. Since he has been practicing he has become Director and Treasurer of the Coughlin Sanford Switch Company. Dr. Acken is in addition to his ordinary professional work an Associate Professor in the Medical College of the New York School of Clinical Medicine, and Attending Physician to the West Side German Dispensary, New York. He is a member of the Benevolent and Protective Order of Elks, of the Ancient Essenic Order, of the Manhattan Clinical Society, of the Eastern Medical Society, and of the New York County Medical Society. He was married on November 14, 1894, to Jessie May Howeth.[1]
References
Edit
Community content is available under
CC-BY-SA
unless otherwise noted.