Thomas Hastings was born 1605 in Cambridge, Cambridgeshire, England and died 7 September 1685 Watertown, Middlesex County, Massachusetts of unspecified causes. He married Susanna Hastings (c1600-1650) 1630 in England. He married Margaret Cheney (1628-1678) 4 April 1651 in Roxbury, Norfolk County, Massachusetts.
Biography
Born about 1605 (aged 29 on 30 April 1634). Yeoman who came to Massachusetts Bay in 1634 on the "Elizabeth" & settled in Watertown. (on 30 April 1634, "Thomas Hastings," aged 29, and "Susan his wife," aged 34, were enrolled at Ipswich as passengers for New England on the Elizabeth). Died between 12 March 1682[/3?] (date of will) and 7 September 1685 (probate of will).
Source:Anderson's Great Migration Study Project
1634 Voyage of Elizabeth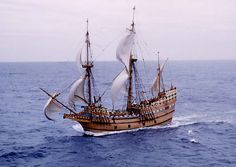 They were passengers on the 1st Voyage of the English ship Elizabeth, which sailed from Ipswich in April, 1634, bound for New England. The ship arrived safe at Massachusetts Bay. Passenger list information was transcribed in the 19th century by Michael Tepper from records found in London, the Public Rolls Office, formerly at Carleton Ride. Note the ship sailed in April 1634, but the passeger listed is dated six months later to November 1634. Do not confuse this list with the second voyage of the Elizabeth made in 1635.
Watertown Founders Monument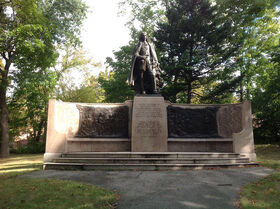 He is listed on Watertown Founders Monument, commemorating the first settlers of Watertown, Massachusetts. The town was first known as Saltonstall Plantation, one of the earliest of the Massachusetts Bay Colony settlements. Founded in early 1630 by a group of settlers led by Richard Saltonstall and George Phillips, it was officially incorporated that same year. The alternate spelling "Waterton" is seen in some early documents.

Thomas Hastings twice contemplated moving to Dedham. He attended seven Dedham town meetings between August 1636 and February 1636/7, during the period when the meetings were held in Watertown. He signed the 10 September 1636 petition to the General Court requesting a confirmation of the town grant, and also signed the Dedham Compact. On 11 May 1637, at the third meeting held in Dedham, "Thomas Hastings laying down his lot unto our society, John Eaton is entertained into the same & subscribed."
Marriage & Family
MARRIAGES:
By 1634 Susan _____ (and perhaps earlier, given the age of her husband). She died at Watertown on 20 February 1650[/1].
Watertown "about April 1651" Margaret Cheney, daughter of William Cheney (in his will dated 30 April 1667, "William Cheiney" included a bequest to "my three daughters, to wit, Ellin, Margret & Mehitobell," and named as executors "my two sons Thomas Cheiney & Thomas Hastings")
Children
Siblings
References
Residences
Footnotes (including sources)