Capt Thomas Hale IV was born 11 February 1659 in Newbury, Essex County, Massachusetts to Thomas Hale III (1633-1688) and Mary Hutchinson (1630-1715) and died 11 April 1730 Rowley, Essex County, Massachusetts of unspecified causes. He married Sarah Northend (1661-1732) 16 May 1682 in Newbury, Essex County, Massachusetts.
Biography
Thomas Hale IV was Captain of the Militia and Justice of the Peace in Newbury, Massachusetts. Removed to Rowley, Massachusetts shortly before his death.He weighed over 500 pounds and had "a powerful voice". From the book Descendants of Thomas Hale:
"He spent most of his life in Newbury, but shortly before his death removed to Rowley. He was a man of immense size, said by tradition to have weighed over 500 pounds, and his belt as worn measured five feet. He had a voice of immense power. He was prominent and leading man in church and town affairs in both Newbury and Rowley as captain of militia and justice of the peace, and familiarly known as Captain Hale and Justice Hale."
For additional biography, see the story in Memories, "Ould Nebury", p. 88
Children
Siblings
Vital Records
Rowley Gravestone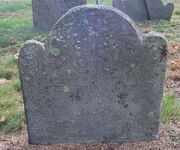 Location: Rowley Burial Ground -
Inscription: (Age 72)
HERE LIES YE BODY / OF YE HONOURABLE / THOMAS HALE, ESQ. / WHO DIED APRIL / 11 1730 / IN YE 72 / YEAR OF HIS / AGE
References
Residences
Footnotes (including sources)
Community content is available under
CC-BY-SA
unless otherwise noted.