English Immigrant to America
Biography
Thomas French, Sr.
was born
11 October
1584
in
Essex
,
England
to
Jacob French (1555-1615)
and
Susan Warren (1555-1613)
and died circa
1639
in
Ipswich
,
Essex County
,
Massachusetts
of unspecified causes. He married
Susanna Riddlesdale (1584-1658)
5 September 1608 in
Assington
,
Suffolk
,
England
. Ancestors are from the
United Kingdom
.
English History
Thomas French, Sr., was born on 11 October 1584 in a village called Bures St. Mary in the county of Suffolk in eastern England. He is a son of Jacob. He moved to Assington and married Susan Riddlesdale on 5 September 1608 in Assington.
Susan Riddlesdale was born 20 April 1584 at Boxford, Suffolk, England, daughter of John Riddlesdale and Dorcas Black. She died 28 September 1658.
Thomas died about 5 November 1639 in Ipswich, Essex, Massachusetts. Both Thomas and Susan immigrated in 1635 to Ipswich, five years after their son, Thomas, immigrated. All Frenches were baptized either at St. Edmunds Church in Assington, or at St. Marys Church in Bures St. Mary
Assington, County Suffolk, is a parish in the hundred of Babergh, in the arch deaconry of Sudbury, and diocese of Norwich. There are county records which show that a French family had been early established in the Babergh Hundred, as far back as 1274.
1630 Winthrop Fleet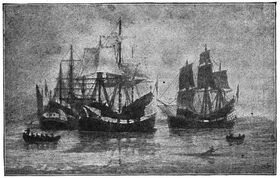 He was a passenger on the in the Winthrop Fleet in 1630, part of The Great Migration. It was the largest fleet ever assembled to carry Englishmen overseas to a new homeland. It was a well planned and financed expedition comprising eleven ships that carried 700 immigrants from England to the Massachusetts Bay Colony. The group, led by Governor John Winthrop, sailed from April to July of 1630. The fleet landed at Salem. Of the 700 on board, 200 died during the voyage, and 100 returned to England soon after arrival. Some of the 400 remaining settlers stayed in Salem, but many moved on to Boston, Watertown, or other settlements.
It is known that John Winthrop held land in Assington, and the following extract from a letter written to John Winthrop, Jr., of New England, by John Bluette, former steward of Groton Manor of which Governor Winthrop was lord, is significant in locating the English locality from which the immigrants French came.
The letter is dated Groton, 4 March 1632/3, and contains this passage: My lovinge commends to John Samford, Goodman Pease and his company, and to Anse Chambers, John Biggs, my Scholars Thomas French and John Clark." It is believed this "scholar" referred to was one of the sons of Thomas French, Sr. (New England Historical and Genealogical Register 47: 362.)
1630 Boston Settlement
On the records of the First Church of Boston, the name of Thomas French is found appearing between the name of John Winthrop and that of his wife, Martha. This name, it is believed, was that of the son, as also was that of the Thomas French who was received as freeman there 6 November 1632.
1634 Move to Ipswich
Thomas French, Sr., was dismissed to the church in Ipswich 27 January 1639, "whither he had gone in 1634," says one historian. (Genealogical Dictionary of New England by Savage, 2: 207-8.) He died there before 5 November 1639, when "the administrators of the goods of Thomas French, deceased, commit them to his wife, and the land which he left is to be disposed for sale or otherwise, by the advice of the Magistrates of Ipswich, for the maintenance of his wife, and education of his children who are not yet able to provide for themselves nor were disposed of in their Father's life." (New England Historical and Genealogical Register 47: 362.) This record indicates that some of his children had already been provided for.
A list of the "Commoners in 1641," in Ipswich, contains the names of Thomas French and Widow French. (New England Historical and Genealogical Register 2: 175.) This latter was undoubtedly Susanna (Riddlesdale) French, widow of Thomas French, Sr., whose estate was disposed of in 1639 in the manner just mentioned. On 28 September 1658 administration of the estate of "Susan" French was granted to her son John, who later brought in an inventory. (Essex Probate Records 2: 118; Essex County Court Records 2: 150.)
Marriage and Family
THOMAS; married Mary
Alice born 9 April 1610; married 1639 Thomas Howlett born 1605- died 1667. Alice was "dismissed to Ipswich" from Boston Church 16 Tune 1644. She is mentioned in the will of John Robinson, ot Ipswich. in 1657. (New England Historical and Genealogical Register47:362.)
Dorcas
John , born 1612; emigrated 1635; freeman 1639. Lived at Dorchester and Braintree, Massachusetts, at the latter place as early as 1640. He died 6 August 1692, aged about eighty years. He married (1) Grace ???, and has six sons and two daughters. She died 28 February 1681, and he married (2) Elinor, daughter of Reverend William Thomp son, widow of William Veazey. She died 23 April 1711, aged 85 (New- Hampshire Genealogy, Stearns, 1805.)
Samuel. ?
Mary ? On the First Church records it is shown that a daughter Mary was born to Thomas French in 1632, but died soon.
Edward, ? probably. His name appears on Ipswich records 1637 (Ipswich in the Massachusetts Bay Colony, 491.) The coat-of-arms ascribedto him by Crozier, differs only in tinctures from that of John of Braintree. (Crozier's General Armory, 59.) He married Ann Goodale sister of Richard. (Boston Transcripts, 13 June 1928)
Children
Siblings
Residences
See Also
Footnotes (including sources)
Contributors
Community content is available under
CC-BY-SA
unless otherwise noted.