Thomas Cotton, 2nd Baronet of Combermere was born 1672 in Combermere Abbey, Dodcott cum Wilkesley, Cheshire, England to Robert Cotton, 1st Baronet of Combermere (1635-1712) and Hester Salisbury (c1635-1710) and died 12 June 1715 Dean's Yard, Middlesex, England of unspecified causes. He married Philadelphia Lynch (1675-1758) 1689 in England.
Biography
RESIDENCE: Llewenny, Denbighshire.
DISTICTION: Second Baronet. Inherited following the death of his his elder brother, Hugh, date unknown
PROBATE: Will dated 24 May 1715; will proved 11 Jul 1715
Cotton Family Ancestry

The Cotton Family of Combermere Abbey has an extensive family ancestry that is directly descended from Henry II of England (1133-1189), Charlemagne (747-814) and the ancient Kings of Wessex. There are also many other notable family descendants.
Combermere Abbey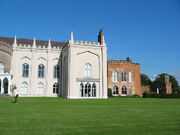 Principle residence was the Combermere Abbey located in Dodcott cum Wilkesley, English County of Cheshire. A former Christian monastery founded in 1130 AD and at one time the third largest church in Cheshire. In August 1539, the abbey and its estates, were granted to Sir George Cotton, an esquire of the body to Henry VIII of England (1491-1547). The Cotton Family kept it as a country home which they held up till 1919.
Marriage and Family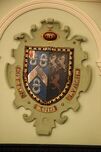 MARRIED: 1689. Philadelphia Lynch, 5.5.1675 – 30.12.1758, daughter and heiress of Sir Sir Thomas Lynch of Esher, Surrey, Governor of Jamaica, Attorney-General to King Charles I, and Lord Keeper of the Great Seal.
Thomas Lynch, Gov of Jamica married firstly, Vere, daughter of Sir George Herbert, by whom he had a daughter Philadelphia, wife of Sir Thomas Cotton of the Cotton baronets of Combermere. Philadelphia appears to be born while Gov Lynch was on a six year assignment as governor of Jamaica (1670-76).
Thomas Salusbury Cotton (c1691-1710) (Heir apparent)
Henry Cotton (1692-1692) (died young)
Anne Cotton (1693-1693) (died young)
Philadelphia Cotton (1698-) md = Thomas Boycott of Hinton, Shropshire
Stephen Salusbury Cotton (1700-1727)
Hugh Calveley Cotton (1701-1702) (died young)
John Salusbury Cotton (1708-1730)
Sophia Cotton (1704-1756) - unmarried
Lynch Salusbury Cotton, 4th Baronet of Combermere (1706-1775) - Heir to Combermere Abbey after his brother
Hester Maria Cotton (1707-1733) md = John Salusbury of Bachecraig, Flint
Sidney Arabella Cotton (1709-1781) - female / unmarried
George Calveley Cotton (1710-1715) (died young)
William Salusbury Cotton (1712-1715) (died young)
Vere Cotton (1713-1730) - female
Henry Salusbury Cotton (1714-1714) (died young)
Children
Siblings
References
Residences
Footnotes (including sources)