Biography
Sir Thomas Chapman
was born
20 October
1756
in
Killua Castle
,
County Westmeath
,
Ireland
to
Benjamin Chapman (1707-1768)
and
Anne Tighe (1711-1792)
and died
23 December
1837
in
Bracklyn Castle
,
County Westmeath
,
Ireland
of unspecified causes. He married
Margaret Anne Fetherstone (1788-1871)
1808 in
County Westmeath
,
Ireland
. Ancestors are from
Ireland
.

2nd Baronet of Killua Castle. Married to Margaret Fetherston and had three sons including 3rd and 4th baronets of Killua Castle.
Sir Thomas Chapman, 2nd Bt. was invested as a Knight in December 1780. He succeeded to the title of 2nd Baronet Chapman, of St. Lucy's, co. Westmeath [I., 1782] in July 1810 at the death of his brother.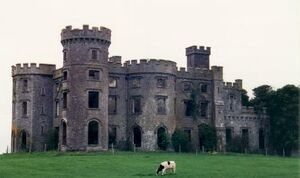 Killua Castle is the ancestral home of the Chapman Family who were granted the lands around Killua in 1667 as payment for services during the Cromwellian invasion of Ireland.
Killua Castle, and the nearby Raleigh Obelisk, are situated near Clonmellon, County Westmeath, Ireland. The present house was built in about 1780 by Sir Benjamin Chapman and consisted of a hall, dining room, oval drawing room, breakfast parlour and front and back stairs. There was also a stable yard, barn and haggard. From here, the Chapmans administered the surrounding farm lands of some 9,000 acres in the 18th century. Left in a ruinous condition, it was renovated in 2006.
Vital statistics
Siblings
Children
References
Footnotes (including sources)
Contributors
Community content is available under
CC-BY-SA
unless otherwise noted.