Thomas Boylston was born 12 February 1614 in London, Middlesex, England to Edward Boyston (1587-1625) and Ann Bastian (1595-1621) and died 4 October 1653 Watertown, Middlesex County, Massachusetts of unspecified causes. He married Sarah Gilbert Morcock (1617-1673) 1639 in Watertown, Middlesex County, Massachusetts.
Biography
Born about 1615 (aged 20 in 1635). Planter from London who came to Massachusetts Bay in 1635 on the "Defence," & settled in Watertown MA. Died after 26 Jul 1652 & before 12 Mar 1654/5.
1635 Voyage to America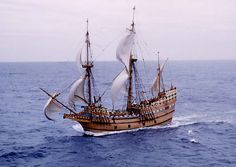 He was one of 111 passenger recorded for the English ship Defense, which left London, England late July 1635 with her master, Edward Bostocke, arriving at Massachusetts Bay Colony on October 8th. One of many Immigrant Ships of New England. Thomas was #39 on the passenger roll sheet.
Watertown Founders Monument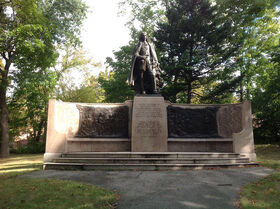 He is listed on Watertown Founders Monument, commemorating the first settlers of Watertown, Massachusetts. The town was first known as Saltonstall Plantation, one of the earliest of the Massachusetts Bay Colony settlements. Founded in early 1630 by a group of settlers led by Richard Saltonstall and George Phillips, it was officially incorporated that same year. The alternate spelling "Waterton" is seen in some early documents.
Marriage and Family
Married by 1640, Sarah Gilbert Morcock (1617-1673). She married (2) Watertown MA, 12 Mar 1654/5, John Cheney, & died Watertown 14 Sep 1704. Source: Anderson's Great Migration Study Project.
James Cutler (1605-1694) in 1635 received a town lot in Watertown. It contained eight acres, bounded east by Thomas Boylston (1614-1653), west and north by a Common Street and Pond Road and on south be lot of Ellis Barron (1600-1676).
Children
Siblings
Research Notes
FamilySearch's Family Tree #LHL9-RHL reports christened Feb 12, 1614. St. Dionis, Backchurch, Kent, England, died Oct 4, 1653 Watertown, Middlesex Co Mass. Father was Thomas Boylston 1587-1648 of London England
References
Residences
Footnotes (including sources)