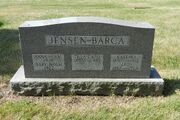 Thea Jensen (1885-1910) was deaf and mute. (b. March 10, 1885, Chicago, Cook County, Illinois, USA - d. October 15, 1910, Chicago, Cook County, Illinois, USA)
Parents
Siblings
Marriage
Thea married Max Caro (1881-1920) who was Jewish. They may have met at a school for the deaf in 1900, Thea was not living at home in the 1900 United States Census]]. Max may have died in the influenza pandemic.
Children
Death
Thea died on October 15, 1910 less than a month after giving birth to her daughter, Anna. Her Illinois Death Certificate Number was "2277". Mary Virgiious Geary (1918- ) believes the cause of death was complications from a gallstone operation. Thea and Max's children were then raised by Lena and Andrew Jensen, and they appear at 4932 Austin Avenue in Chicago on the 1920 US Census.
Images
Footnotes (including sources)
Community content is available under
CC-BY-SA
unless otherwise noted.