Teodoras Karijotaitis (Fyodor Koryatovich) (Fedir Koryatovich) was born circa 1339 to Karijotas (c1307-c1361) and died 1414 Mukachevo, Mukachevo Rayon, Zakarpattia Oblast, Ukraine of unspecified causes.
Residences
Footnotes (including sources)
Teodoras_Karijotaitis or Fyodor Koryatovich or Fedir Kortyatovich (Rusyn: Федур Коръятович, Ukrainian: Федір Коріятович|, Lithuanian: Teodoras Karijotaitis) (died 1414 in Mukachevo) was a Lithuanian prince, son of Karijotas, Duke of Navahrudak, and grandson of Gediminas, Grand Duke of Lithuania. Fedir inherited Navahrudak Castle from his father and after his other brothers died ca. 1389, became ruler of all Podolia as a result of the decisive victory at the Battle of Blue Waters. In 1392 he disobeyed Vytautas the Great and was forced into exile. In 1396, Koryatovich purchased the city of Mukachevo, settling himself in the city's Palanok Castle, which would become one of the most protected castles in the region.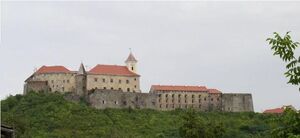 References
(Lithuanian)

Jonas Zinkus, et al., ed (1986). "Karijotaičiai". Tarybų Lietuvos enciklopedija. 2. Vilnius, Lithuania: Vyriausioji enciklopedijų redakcija. pp. 218.

 
External links
Siblings
Persondata
NAME
Koriatovych, Fyodor
ALTERNATIVE NAMES
SHORT DESCRIPTION
DATE OF BIRTH
1339
PLACE OF BIRTH
DATE OF DEATH
1414
PLACE OF DEATH
Community content is available under
CC-BY-SA
unless otherwise noted.