Susannah Fullmer Snyder was born 25 November 1844 in Nauvoo, Hancock County, Illinois, United States to David Fullmer (1803-1879) and Rhoda Ann Marvin (1813-1892) and died 30 August 1916 Salt Lake City, Salt Lake County, Utah, United States of unspecified causes. She married Ephraim Stockwell Snyder (1831-1904) 26 October 1861 in Salt Lake City, Salt Lake County, Utah, United States.
Biography
Susannah is buried with her husband at the Snyderville Cemetery in Summit County, Utah. Ephraim's father, Samuel Snyder, was the founder of the Snyderville community, located near Park City, Utah.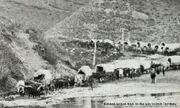 Numbered amoung the participants in the Edward Hunter 1850 Pioneer Company, a early Mormon pioneer wagon train traveling from to Salt Lake City in the early summer. 261 individuals and 67 wagons were in the company when it began its journey from the outfitting post at Kanesville, Iowa (present day Council Bluffs). This company was organized at 12-mile creek near the Missouri River. It was the first Perpetual Emigrating Fund Company of LDS Church. Its leader, Edward Hunter would go to become the 3rd presiding bishop of the church the following year. Several diary/biographical accounts exist for this group.
Children
Offspring of Ephraim Stockwell Snyder and Susannah Fullmer (1844-1916)
Name
Birth
Death
Joined with

Ephriam George Snyder (1862-1918)




Sextus Fullmer Snyder (1864-1929)




David Stockwell Snyder (1867-1941)




Rhoda Maria Snyder (1869-1954)




Burtron Octavious Snyder (1872-1941)




Robert Wesley Snyder (1874-1874)




Wealthy Snyder (1875-1931)




Wilford Woodruff Snyder (1878-1959)




Pearl Susannah Snyder (1880-1964)




Amy Elvivia Snyder (1883-1885)




Don Vernon Eugene Snyder (1886-1974)
Siblings
Vital Records
1850 US Census
"United States Census, 1850," index and images, FamilySearch (https://familysearch.org/pal:/MM9.1.1/MCS6-BC8 : accessed 02 Dec 2013), David Fullmer, Great Salt Lake county, Great Salt Lake, Utah Territory, United States; citing dwelling 421, family 421, NARA microfilm publication M432, roll 919.
Household Listing #421 at Salt Lake City
David Fullmer - M/47 - B: Penn /Ocp: Farmer
Rhoda Ann Fullmer - F/38 - B: Penn
Eugene Fullmer - M/18 - B:Penn
Junius Fullmer - M/16 - B:Penn
Octavius Fullmer - M/13 - B:Ohio
Elvira Fullmer - F/11 - B:Ill
Ortensia Fullmer - F/8 - B:Ill
Susanna Fullmer - F/6 - B:IA'
David Fullmer - M/4 - B:IA
Rhoda Fullmer - F/2 - B:IA
Household Listing #422 at Salt Lake City Adjacent Household of 2nd Wife under assumed name
Sarah Rockwell - F/28 - B:Conn.
Sarah J Rockwell - F/4 - B:Ia
Adjacent Household Listing #423 at Salt Lake City (Parents of David Rullmer)
Peter Fullmer - M/78 - B:Penn - Ocp: None
Susanna Fullmer - F/68 - B:Penn
Mary Fullmer - F/18 - B:Penn
Jane Fullmer - F/16 - B:Penn
References
Residences
Footnotes (including sources)