Articles, images

Archeology

 •

Farms

 •

Landmarks

 •

Migrations and settlements

 •

Photo gallery

 •

Prehistory

 •

Timeline

People

Births

 •

Deaths

 •

Baptisms

 •

Marriages

 •

Divorces

 •

Burials

 •

Families

 •

Residents

Daily life

Before 1700

 •

1700-1749

 •

1750-1799

 •

1800-1819

 •

1820-1839

 •

1840-1859

 •

1860-1879

 •

1880-1899

 •

1900-1919

 •

1920-1939

 •

1940-1959

 •

1960-1979

 •

1980-1999

 •

2000-present

Research,
including queries

Sumner County, Tennessee links

 •

Birth records

 •

Businesses

 •

Cemeteries

 •

Census data

 •

Census records

 •

Church records

 •

Court records

 •

Death records

 •

Directories

 •

Landowner records

 •

Marriage records

 •

Maps

 •

Military records

 •

Obituaries

 •

Probate records

 •

Queries
Sumner County

,

Tennessee


Seal


Location in the state of Tennessee

Tennessee's location in the U.S.
Founded
November, 1786
Seat
Gallatin
Area
 - Total
 - Land
 - Water

543 sq mi (1,406 km²)
529 sq mi (1,370 km²)
14 sq mi (36 km²), 2.54%
Population
 - (2000)
 - Density

130,449
246/sq mi (95/km²)
Website
www.sumnertn.org
Sumner County is a county located in the U.S. state of Tennessee. As of 2000, the population was 130,449. Its county seat is Gallatin6, but its largest town is Hendersonville.
Geography
[
]
Sumner County is located in Middle Tennessee along the northern boundary of the state, on the border with Kentucky. Sumner County is in the Greater Nashville metropolitan area. According to the U.S. Census Bureau, the county has a total area of 1,407 km² (543 sq mi). 1,371 km² (529 sq mi) of it is land and 36 km² (14 sq mi) of it (2.54%) is water.
Adjacent Counties
[
]
Demographics
[
]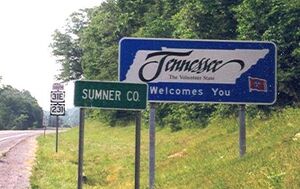 As of the census² of 2000, there were 130,449 people, 48,941 households, and 37,048 families residing in the county. The population density was 95/km² (246/sq mi). There were 51,657 housing units at an average density of 38/km² (98/sq mi). The racial makeup of the county was 91.49% White, 5.78% Black or African American, 0.29% Native American, 0.66% Asian, 0.03% Pacific Islander, 0.80% from other races, and 0.96% from two or more races. 1.76% of the population were Hispanic or Latino of any race.
By 2005 89.1% of Sumner County's population was non-Hispanic whites while 6.5% was African-American and 2.5% was Latino.
In 2000 there were 48,941 households out of which 36.30% had children under the age of 18 living with them, 61.10% were married couples living together, 10.80% had a female householder with no husband present, and 24.30% were non-families. 20.30% of all households were made up of individuals and 7.20% had someone living alone who was 65 years of age or older. The average household size was 2.64 and the average family size was 3.04.
In the county, the population was spread out with 26.30% under the age of 18, 8.00% from 18 to 24, 30.70% from 25 to 44, 24.30% from 45 to 64, and 10.70% who were 65 years of age or older. The median age was 36 years. For every 100 females there were 95.90 males. For every 100 females age 18 and over, there were 92.30 males.
The median income for a household in the county was $46,030, and the median income for a family was $52,125. Males had a median income of $36,875 versus $25,720 for females. The per capita income for the county was $21,164. About 6.20% of families and 8.10% of the population were below the poverty line, including 10.50% of those under age 18 and 10.00% of those age 65 or over.
Cities and towns
[
]
References
[
]
External links
[
]
Coordinates: 36°28′N 86°28′W / 36.47, -86.46