Suceava (Romanian pronunciation: [suˈt͡ʃe̯ava]) is a county (judeţ) of Romania, in the historical regions of Moldova, Bukovina and Transylvania, with the capital city at Suceava.
In 2002, it had a population of 688,435 and the population density was 80.5/km².
| Year | County population[4] |
| --- | --- |
| 1948 | 439,751 |
| 1956 | 507,674 |
| 1966 | 572,781 |
| 1977 | 633,899 |
| 1992 | 701,830 |
| 2002 | 688,435 |
This county has a total area of 8,553 square kilometres (3,302 sq mi).
The western side of the county consists of mountains from the Eastern Carpathians group: the Rodna Mountains, the Rarău Mountains, the Giumalău Mountains and the three "Obcine" with lower heights. The county's elevation decreases toward the east, with the lowest height in the Siret River valley.
The rivers crossing the county are the Siret River with its tributaries: the Moldova River, the Suceava River and the Bistriţa River.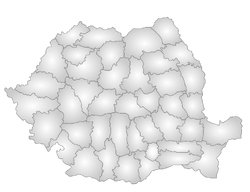 The predominant industries in the county are:
Wood industry - the county has the largest surfaces covered with forests in Romania.
Food industry.
Mechanical components industry.
Construction materials industry.
Textile and leather industry
For Market Example for all the stuff above: Metro (one of the biggest Markets in Romania).
There are also metals explorations in the mountains.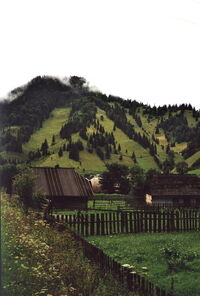 The main tourist attractions in the county are:
Suceava County has 5 municipalities, 11 towns and 98 communes
During June 2010, Gheorghe Flutur, president of Suceava County (judet), told the Mediafax news agency his region was one of the worst hit in the country in the morning of the 29th as he co-ordinated local flood relieve work in his striken county[5].
Community content is available under
CC-BY-SA
unless otherwise noted.