Biography
Stewart Lee Udall was born 31 January 1920 in St. Johns, Apache County, Arizona, United States to Levi Stewart Udall (1891-1960) and Louisa Lee (1893-1974) and died 20 March 2010 Santa Fe, Santa Fe County, New Mexico, United States of unspecified causes. He married Ermalee Webb (1922-2001) 1 August 1947 .
U.S. Presidential Cabinet Secretary. He enlisted for World War II and served in Europe as a B-24 gunner with the Fifteenth Army Air Force. In 1948 Udall graduated from the University of Arizona Law School and became an attorney. In 1954 he was the successful Democratic nominee for a seat in Congress and served three terms, 1955 to 1961. He had been reelected in 1960, but resigned to accept appointment as Secretary of the Interior. Udall served during the entire presidential administrations of John Kennedy and Lyndon Johnson, 1961 to 1969.
He was instrumental in passage of the Wild and Scenic Rivers Act and creation of the Land and Water Conservation Fund, and more than 60 additions were made to the national park system during his tenure. After leaving office he practiced law in Phoenix before moving to New Mexico. His books included 1963's "The Quiet Crisis," 1987's "To The Inland Empire," 1994's "The Myths of August," and 2002's "The Forgotten Founders." Stewart Udall was succeeded in Congress by his brother Morris K. Udall. He was the father of U.S. Senator Tom Udall, the uncle of U.S. Senator Mark Udall, and the cousin of U.S. Senator Gordon Smith.
Children
Offspring of Stewart Lee Udall and

Ermalee Webb (1922-2001)

Name
Birth
Death
Joined with

Thomas Stewart Udall (1948-)




Denis Udall (-)




Jay Udall (-)




Lori Udall (-)




Lynn Udall (-)




Scott Udall (-)
Siblings
Vital Records
St. Johns Gravestone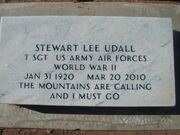 See Also
Footnotes (including sources)