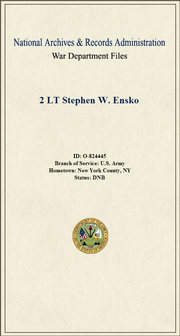 Stephen William Ensko (1922-1944) was a 2nd Lieutenant in the US Army Air Corps in World War II who died, but not in combat. (b. April 18, 1922; Brooklyn, New York City, New York, USA - d. prior to October 12, 1944; France) Military Service Number O-824445.
He was the son of Dorothea X (1892-1977) and Stephen Guernsey Cook Ensko (1896-1969).
His siblings include: Dorothea Charlotte Ensko (1920- ) who married Vernon Charles Wyle (1912-1986); and Alice Elizabeth Ensko (1924-1999) who married Alfred E. Woodward II (1913- ) the judge.
He died in 1944.[1]
Cypress Hills National Cemetery, Brooklyn, Kings County, New York, USA.
His name is recorded at the National WWII Memorial in Washington, District of Columbia.
Community content is available under
CC-BY-SA
unless otherwise noted.