Dr Stephen A Douglas
was born
16 January
1781
in
Stephentown
,
Rensselaer County
,
New York
to
Benajah Douglas (1760-1829)
and
Martha Arnold (1762-1818)
and died
1 July
1813
in
Brandon
,
Rutland County
,
Vermont
of unspecified causes. He married
Sarah Fiske (1789-1869)
circa 1810 in
Boston
,
Suffolk County
,
Massachusetts
. Notable ancestors include
Charlemagne (747-814)
,
Alfred the Great (849-899)
,
Hugh Capet (c940-996)
,
Henry II of England (1133-1189)
,
William I of England (1027-1087)
. Ancestors are from the
United Kingdom
,
France
,
Germany
,
Russia
,
Ukraine
,
Spain
,
Portugal
,
England
,
Belgium
, the
Netherlands
,
Ireland
,
Israel
,
Italy
, the
Byzantine Empire
,
Sweden
,
Canaan
.
Biography
Son of Benajah and Martha (Arnold) Douglas. Husband of Sarah "Sally" Fisk, later the wife of Gahazi Granger. Father of Sarah Douglas Granger (Mrs. Julius), and Stephen A. Douglas, the Illinois Senator who unsuccessfully ran against Abraham Lincoln for President in 1860.
Doctor Stephen A. Douglas was born at Stephentown, in Rensselaer County, New York, and when quite a youth removed with his parents to Brandon, Rutland County, Vermont, where, after his regular course at Middlebury College [my note: they have no record he ever attended the college], he studied medicine, and became distinguished in his profession. He married Miss Sarah Fisk, the daughter of an extensive farmer in Brandon, by whom he had two children, the first a daughter, and the second a son.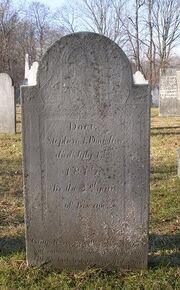 Sudden Death & Fire
On the first of July, 1813, without any previous illness or physical warning, he died suddenly of a disease of the heart. At the very moment of his attack and of his death, he was playing with the daughter at his knees, and holding his son Stephen in his arms. (from The Life of Stephen A. Douglas, by By James Washington Sheahan; pub. by Harper & Brothers, New York, 1860)
Portion of a 1911 letter by Horatio L. Wait, Chicago, whose wife was Conant's granddaughter. Letter appeared in Stephen A. Douglas, A Memorial by Edward Sprague Marsh, privately printed at Brandon, Vermont 1914:
Soon after Stephen A. Douglas was born, early in the morning, his father was sitting in the living room before an open fire holding the infant in his arms. John Conant, neighbor and friend, came in, and just as he opened the door into the room the father died suddenly of apoplexy, and the infant rolled into the fire. John Conant literally rescued the child from the fire.
Children
Siblings
References
Residences
Footnotes (including sources)
Contributors
Community content is available under
CC-BY-SA
unless otherwise noted.