Biography
Edit
Sophronia Curtis
was born
10 February
1810
in
New Salem
,
Franklin County
,
Massachusetts
,
United States
to
Nahum B Curtis (1784-1846)
and
Millicent Waite (1787-1838)
and died
27 June
1850
in
Winters Quarters
,
Douglas County
,
Nebraska
,
United States
of unspecified causes. He married
Patrick Norris (1806-1844)
1830 in
New Salem
,
Franklin County
,
Massachusetts
. Ancestors are from the
United States
.
Zions Camp Participant
Edit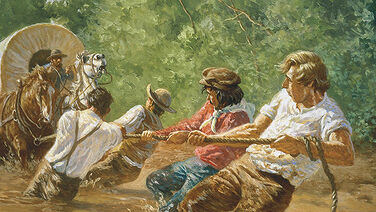 One of the most interesting episodes in the early history of LDS Church was the march of Zion's Camp (1834). The members of the Church in Missouri were being persecuted, and the Prophet Joseph made it a matter of prayer and received a revelation on February 24, 1834. The Lord instructed the Prophet to assemble at least one hundred young and middle-aged men and to go to the land of Zion, or Missouri. (See D&C 130:19–34.)
Zion's Camp, a group of approximately one hundred and fifty men, gathered at Kirtland, Ohio, in the spring of 1834 and marched to Jackson County, Missouri. By the time they reached Missouri, the camp had increased to approximately two hundred men.
In June 1834, Sophronia and her brother Lyman Curtis went on the Zion's Camp march to the Salt River in Missouri. They left from Pontiac, Michigan and were led by Hyrum Smith (1800-1844). Her brother married just barely 30 days after Zions Camp was disbanded in Clay County, Missouri where they would settle with many of the other saints. Both Lyman and Charlotte had participated in the march from Ohio to Missouri.
Death in Winter Quarters
Edit
She later joined her family in Caldwell County, Missouri and taught school just 8 miles from Far West, Missouri, which many of her younger siblings attended; she later taught school in Nauvoo, Illinois.
She married Patrick Norris abt 1841. Patrick was drowned in the Illinois River when returning from an electioneering mission for Joseph Smith (1805-1844) abt 1844. This left Sophronia a young widow at the age of 34.
While making final preparations with her brothers, Lyman and Moses, to cross the plains from Winter Quarters to Utah she died from cholera on 27 June 1850, across from Winter Quarters. Her only child, daughter Millicent Norris, also died one day after they started out. Sophronia and her daughter were buried in the same grave across from Winter Quarters. Their coffin was the bark of a tree. They were laid in half and the other half placed over them.
Marriage and Family
Edit
Children
Siblings
Offspring of Nahum Curtis and Millicent Waite (1787-1838)
Name
Birth
Death
Joined with


Sophronia Curtis (1810-1850)
10 February 1810 New Salem, Franklin County, Massachusetts, United States
27 June 1850 Winters Quarters, Douglas County, Nebraska, United States
Patrick Norris (1806-1844)


Lyman Curtis (1812-1898)
21 January 1812 New Salem, Franklin County, Massachusetts, United States
5 August 1898 Salem, Utah County, Utah, United States
Charlotte Iris Alvord (1815-1879)
Sarah Wells Hartley (1836-1921)


Phineus Curtis (1814-1815)


Moses Curtis (1816-1907)


Joseph Curtis (1818-1883)


Mary Curtis (1821-1888)


George Curtis (1823-1911)


Foster Curtis (1826-1880)


Loren Curtis (1828-1828)


Hyrum Curtis (1829-1898)
Vital Records
Edit
Salem City Gravestone
Edit
References
Edit
Community content is available under
CC-BY-SA
unless otherwise noted.