Solomon Prentice II was born 7 June 1674 in Cambridge, Middlesex County, Massachusetts to Solomon Prentice (1646-1719) and died 25 June 1758 Cambridge, Middlesex County, Massachusetts of unspecified causes. He married Lydia Chapin (1677-1758) 1695 in Cambridge, Middlesex County, Massachusetts.
His father, Solomon I, was a husbandman and brickmaker. In 1672 he bought a house and land on the westerly side of the Common, on which estate near the close of his life he erected a new house, supposed to be the same not long ago occupied by Misses Betsey and lVrsis Bates. He d. 24 July 1719, a. nearly 73; his w. Hepzibah d. 5 Jan. 1741-2, a. 88.
According to the Town Records, Thomas, s. of Solomon and Elizabeth, was b. 7 June 1674, and the birth of Solomon is not recorded. I am confident that Thomas is a mistake for Solomon. Solomon was 84 years old at his death in 1758, as inscribed on his gravestone, corresponding with his birth in 1674; and the age of Thomas, at his death 7 Dec. 1709, is inscribed on his gravestone with much minuteness, as 33 years 3 months and 12 days, answering to his birth at the date assumed by me, 25 Aug. 1676. Moreover, there is no evidence that Solomon was the son of the 2d w. Hepzibah: but it is certain, from the recorded settlement of Hepzibah's estate, that Thomas was her son.
Children
Siblings
Residences
Vital Records
Gravestone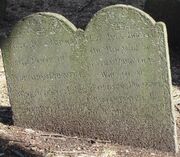 Location: Cambridge Old Burying Ground, Middlesex County, Massachusetts
See Also
Solomon Prentice - GENI.com

Solomon Prentice

Prentice in Middlesex County, Massachusetts
Footnotes (including sources)