Solomon Prentice I was born 1646 in Sudbury, Middlesex County, Massachusetts to Henry Prentice (1613-1654) and Joanna Unknown (1623-1687) and died 24 July 1719 Cambridge, Middlesex County, Massachusetts of unspecified causes. He married Elizabeth Unknown Prentice 1674 in Massachusetts.
Solomon Prentice, Sen., and wife, members of the church in Cambridge, did partake with us in the first administration of the Lord's Supper, Aug 22, 1697.
Research Notes
FindAGrave states that Solomon and Thomas were the sons of Solomon and his first wife, Elizabeth. (Contributor:Fran Chancellor 47703451)
GENI states that Thomas was son of 2nd wife.
Children
Offspring of Solomon Prentice I and

Hepzibah Dunton (1652-1741)

Name
Birth
Death
Joined with

Thomas Prentice (c1677-1730)




Mary Prentice (1679-1742)




Stephen Prentice (1681-1761)




Nathaniel Prentice (1684-1688)




Elizabeth Prentice (1684-1727)




Nathaniel Prentice (1689-1723)




Henry Prentice (1693-1778)




Samuel Prentice (1698-)
Siblings
Residences
Vital Records
Cambridge Gravestone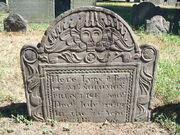 Location : Cambridge Old Burying Ground, Middlesex County, Massachusetts
See Also
Solomon Prentice

Prentice in Middlesex County, Massachusetts
Footnotes (including sources)