Mistress of the Robes to Queen Anne (1702-1711)
Groom of the Stole to Queen Anne (1702-1711)
Keeper of the Privy Purse to Queen Anne (1702-1711)

Ranger of Windsor Great Park

(1702-1744)
Sarah Jennings Churchill was born 5 June 1660 in Sandridge, Hertfordshire, England to Richard Jennings (1619-1668) and Barbara Frances Thornhurst (1628-1730) and died 13 October 1744 Marlborough House, London, England of unspecified causes. She married John Churchill, 1st Duke of Marlborough (1650-1722) 1 October 1678 in King's Stanley, Gloucestershire, England.
Sarah Churchill, Duchess of Marlborough, Princess of Mindelheim, Countess of Nellenburg (née Jenyns, spelled Jennings in most modern references;[1] 5 June 1660 (Old Style) – 18 October 1744), was an English courtier who rose to be one of the most influential women of her time through her close friendship with Anne, Queen of Great Britain. Sarah's friendship and influence with Princess Anne were widely known, and leading public figures often turned their attentions to her, hoping for favor from Anne. By the time Anne became Queen, Sarah's knowledge of government and intimacy with the queen had made her a powerful friend and a dangerous enemy.
Sarah enjoyed a "long and devoted" relationship with her husband of more than 40 years, the great general John Churchill, 1st Duke of Marlborough.[1] After Anne's father, King James II, was deposed during the Glorious Revolution, Sarah acted as her agent, promoting her interests during the reigns of William III and Mary II. When Anne came to the throne after William's death in 1702, the Duke of Marlborough, together with Sidney Godolphin, 1st Earl of Godolphin, rose to head the government partly owing to his wife.
While the Duke was fighting the War of the Spanish Succession, Sarah kept him informed of court intrigue and conveyed his requests and political advice to the queen.[2] Sarah campaigned tirelessly on behalf of the Whigs, while also devoting herself to building projects such as Blenheim Palace. A strong-willed woman, she strained her relationship with the Queen whenever they disagreed on political, court, or church appointments. After her final break with Anne in 1711, Sarah and her husband were dismissed from Court, but she had her revenge under the Hanoverian kings following Anne's death. She later had famous disagreements with many important people, including her daughter Henrietta Godolphin, 2nd Duchess of Marlborough; the architect of Blenheim Palace, John Vanbrugh; Prime Minister Robert Walpole; King George II; and his wife, Queen Caroline. The money she inherited from the Marlborough trust left her one of the richest women in Europe.[1][3] She died in 1744, aged 84.[4]
Early life
Sarah Jennings was born on 5 June 1660, probably at Holywell House, St Albans, Hertfordshire.[5] She was the daughter of Richard Jennings (or Jenyns), a Member of Parliament, and Frances Thornhurst; her paternal grandfather was Sir John Jennings, father, by his wife Alice Spencer, of an extraordinarily large family. Her uncle (Martin Lister) was a prominent naturalist.

Richard Jennings came into contact with James, Duke of York (the future James II, brother of King Charles II), in 1663, during negotiations for the recovery of an estate in Kent (Agney Court) that had been the property of his mother-in-law, Susan Lister (née Temple). James's first impressions were favourable, and in 1664 Sarah's sister, Frances, was appointed maid of honour to the Duchess of York, Anne Hyde.[6]
Although James forced Frances to give up the post because of her marriage to a Catholic, James did not forget the family. In 1673, Sarah entered court as maid of honour to James's second wife, Mary of Modena.[6]
Sarah became close to the young Princess Anne in about 1675, and the friendship grew stronger as the two grew older. In late 1675, when she was still only fifteen, she met John Churchill, 10 years her senior, who fell in love with her.[7] Churchill, who had previously been a lover of Charles II's mistress, Barbara Palmer, Duchess of Cleveland, had little to offer financially, as his estates were deeply in debt. Sarah had a rival for Churchill in Catherine Sedley, a wealthy mistress of James II and the choice of Churchill's father, Sir Winston Churchill, who was anxious to restore the family's fortune. John may have hoped to take Sarah as a mistress in place of the Duchess of Cleveland, who had recently departed for France, but surviving letters from Sarah to John show her unwillingness to assume that role.[8][9]
Marriage
In 1677, Sarah's brother Ralph died, and she and her sister, Frances, became co-heirs of the Jennings estates in Hertfordshire and Kent. John chose Sarah over Catherine Sedley, but both John's and Sarah's families disapproved of the match, therefore they married secretly in the winter of 1677–78.[11]
John and Sarah were both Protestants in a predominantly Catholic court, a circumstance that would influence their political allegiances. Although no date was recorded, the marriage was announced only to the Duchess of York, and a small circle of friends, so that Sarah could keep her court position as Maid of Honour.[12]
When Sarah became pregnant, her marriage was announced publicly (on 1 October 1678), and she retired from the court to give birth to her first child, Harriet, who died in infancy. When the Duke of York went into self-imposed exile to Scotland as a result of the furore surrounding the Popish Plot, John and Sarah accompanied him, and Charles II rewarded John's loyalty by creating him Baron Churchill of Eyemouth in Scotland, Sarah thus becoming Lady Churchill. The Duke of York returned to England after the religious tension had eased, and Sarah was appointed a Lady of the Bedchamber to Anne after the latter's marriage in 1683.
Power behind the throne: Queen Anne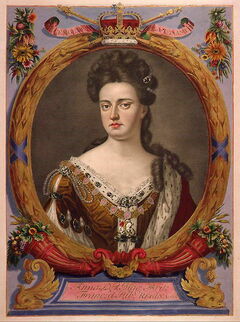 In 1702, William III died, and Anne became queen. Anne immediately offered John Churchill a dukedom, which Sarah initially refused. Sarah was concerned that a dukedom would strain the family's finances; a ducal family at the time was expected to show off its rank through lavish entertainments.[14] Anne countered by offering the Marlboroughs a pension of £5,000 a year, for life, from Parliament, as well as an extra £2,000 a year from the Privy Purse, and they accepted the dukedom. Sarah was promptly created Mistress of the Robes (the highest office in the royal court that could be held by a woman), Groom of the Stole, the first of only two women ever (replaced by her cousin and rival, Abigail Masham, Baroness Masham) to be Keeper of the Privy Purse, and the only woman ever to be Ranger of Windsor Great Park. The Duke accepted the Order of the Garter, as well as the office of Captain-General of the army.[15]
During much of Anne's reign, the Duke of Marlborough was abroad fighting the War of the Spanish Succession, while Sarah remained in England. Despite being the most powerful woman in England besides the queen, she appeared at court only rarely, preferring to oversee the construction of her new estate, Woodstock Manor (the site of the later Blenheim Palace), a gift from Queen Anne after the duke's victory at the Battle of Blenheim.[16] Nevertheless, Anne sent her news of political developments in letters and consulted Sarah's advice in most matters.[17]
Sarah was famous for telling the queen exactly what she thought, and did not offer her flattery.[18] Anne and Sarah had invented petnames for themselves during their youths which they continued to use after Anne became queen: Mrs Freeman (Sarah) and Mrs Morley (Anne).[19] Effectively a business manager, Sarah had control over the queen's position, from her finances to people admitted to the royal presence.[20][21]
Children
The Duke and Duchess of Marlborough's children who survived childhood married into the most important families in Great Britain:[22]
Image
Name
Birth date
Death date
Brief biography
Harriet Churchill
October 1679
October 1679
Died an infant
Henrietta Churchill (later Godolphin), 2nd Duchess of Marlborough

in her own right

19 July 1681
24 October 1733
Married The Hon. Francis Godolphin (later Viscount Rialton by courtesy and 2nd Earl of Godolphin respectively) on 23 April 1698. Their son,

William, Marquess of Blandford

died in 1731; their daughter

Henrietta

married

Thomas Pelham-Holles, 1st Duke of Newcastle-upon-Tyne

; their daughter Mary married

Thomas Osborne, 4th Duke of Leeds

.

Anne Churchill

(later Spencer)
27 February 1683
15 April 1716
Anne married the Whig politician Charles Spencer, 3rd Earl of Sunderland on 14 September 1699. After her sister Henrietta's death in 1733, their son, Charles became 3rd Duke of Marlborough. Charles is the ancestor of Winston Churchill. Their son John is the ancestor of the Earls Spencer and thus of Diana, Princess of Wales. Their daughter Diana nearly married Frederick, Prince of Wales, but when the plan failed, married Lord John Russell, later 4th Duke of Bedford.
150px

John Churchill, Marquess of Blandford

13 February 1686
20 February 1703
John, Marquess of Blandford was the heir to the Dukedom of Marlborough. He died unmarried and without children in 1703, so the dukedom passed to Marlborough's eldest daughter, Henrietta, after his death in 1722.
150px
Elizabeth Churchill (later Egerton)
15 March 1687
22 March 1714
Married

Scroop Egerton, 4th Earl of Bridgewater

(from 1720, 1st

Duke of Bridgewater

) on 9 February 1703, leaving issue
Mary Churchill (later Montagu)
15 July 1689
14 May 1751
Married John Montagu, 2nd Duke of Montagu on 17 March 1705, leaving issue
Charles Churchill
19 August 1690
22 May 1692
Died an infant
Children
Offspring of John Churchill, 1st Duke of Marlborough and Sarah Jennings (1660-1744)
Name
Birth
Death
Joined with

Harriet Churchill (1679-bef1698)



Henrietta Churchill, 2nd Duchess of Marlborough (1681-1733)
19 July 1681 Marlborough, Wiltshire, England, United Kingdom
24 October 1733

Harrow

, Middlesex, England
Francis Godolphin, 2nd Earl of Godolphin (1678-1766)

Anne Churchill (1682-1716)
28 February 1682 Marlborough, Wiltshire, England, United Kingdom
15 April 1716
Charles Spencer, 3rd Earl of Sunderland (c1674-1722)


Francis Churchill (c1684-)




John Churchill (1686-1703)



Elizabeth Churchill (1686-1714)
1686 Marlborough, Wiltshire, England, United Kingdom
22 March 1714
Scroop Egerton, 1st Duke of Bridgewater (1681-1745)

Mary Churchill (1689-1751)
15 July 1689
14 May 1751
John Montagu, 2nd Duke of Montagu (1690-1749)


Charles Churchill (1690-1692)
Siblings
Residences
See Also
Jennings in Gloucestershire

Jennings in London

This profile prepared courtesy of World of Scouting Members. Building a brighter future for our youth.
References
^ a b c Falkner 2008.
^

Murray, pp. 12, 13 vol 1

^

Field, p. 315.

^

Field, p. 453.

^ "City of St Albans: Introduction". British History Online / Victoria County History. 1908. http://www.british-history.ac.uk/report.asp?compid=43310&strquery=Marlborough%20St%20Albans.

 

^

Churchill, pp. 108–109 vol 1

^

Field, p. 21.

^

Churchill, p. 128 vol 1

^ Kneller, Godfrey (c. 1703). "John Churchill, 1st Duke of Marlborough". Art Unframed. http://www.artunframed.com/kneller.htm.

 

^ (June 2010) "Birth of Sarah, Duchess of Marlborough, June 5th, 1660". History Today 60 (6).

 

 – via

Questia

(subscription required)

^

Field, p. 24.

^ "Anne, Queen of England". Annapolis Collection, Maryland, United States of America. c. 1702. http://www.msa.md.gov/msa/speccol/sc1500/sc1545/e_catalog_2002/anne.html.

 

^

Field, pp. 106–107.

^

Field, pp. 99 (Captain General and Order of the Garter); 107 (dukedom).

^

Field, p. 145.

^ Hooke 1742, p. 11.
^ Hooke 1742, p. 14.
^ "Duties of the Keeper of the Privy Purse". Official Website of the British Royal Family. August 2007. http://www.royal.gov.uk/output/page4983.asp.

 

^

Field, p. 99
External links

Wikimedia Commons has media related to:
Court offices
First

Mistress of the Robes to Queen Anne




Groom of the Stole to Queen Anne


1702–1711
Succeeded by
The Duchess of Somerset

Keeper of the Privy Purse to Queen Anne


1702–1711
Succeeded by


The Lady Masham

Honorary titles
Preceded by


Baptist May

Ranger of Windsor Great Park


1702–1744
Succeeded by
Hon. John Spencer
Footnotes (including sources)