Biography
Sarah Adair was born 1754 in Pennsylvania, United States to Joseph Adair (1711-1788) and Sarah Laferty (1715-1767) and died 1788 Laurens County, South Carolina, United States of unspecified causes.
Timeline
Siblings
Residences
Research Notes
Error #1 - Not wife of Robert Long
FindAgrave erroneously claims Sarah to be the same person as Elizabeth Adair. no documentary support
Vital Records
Joseph Adair Family Memorial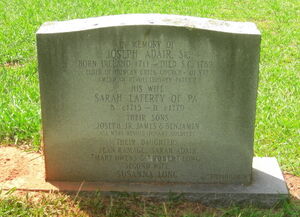 Duncan Creek Presbyterian Church Cemetery, Laurens County, South Carolina Note: This is a memorial, but not an actual gravestone.
IN MEMORY OF JOSEPH ADAIR, SR. BORN IRELAND 1711 - DIED S.C. 1789
ELDER OF DUNCAN CREEK CHURCH - 40 YRS, AMERICAN REVOLUTIONARY PATRIOT
HIS WIFE SARAH LAFERTY OF PA, B. c1715 - D. c1770
THEIR SONS JOSEPH JR., JAMES & BENJAMIN ALL WERE REVOLUTIONARY SOLDIERS
THEIR DAUGHTERS JEAN RAMAGE, SARAH ADAIR,
*MARY OWENS & *ROBERT LONG
SECOND WIFE SUSANNA LONG
* STEPCHILDREN
See Also
Footnotes (including sources)
Community content is available under
CC-BY-SA
unless otherwise noted.