Biography
Samuel Prentice was born 1680 in Newton, Middlesex County, Massachusetts, United States to Thomas Quinn Prentice (1650-1685) and Sarah Stanton (1655-1713) and died 24 April 1728 Stonington, New London County, Connecticut of unspecified causes. He married Esther Griffin Hammond (1689-1752) 1702 in Stonington, New London County, Connecticut.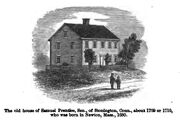 Samuel Prentice was the third child and second son of Sarah Stanton and Thomas Prentice Jr., of Newton, MA. Samuel was born in Newton, in 1680. In about 1701, he married Esther Hammond, daughter of Nathaniel Hammond, also of Newton. They had a large family, with ten children born between 1702 and 1727. Samuel owned, prior to 1700, a large tract of land in Stonington (now N. Stonington), CT. In 1710, Samuel moved his family to this property in Stonington. He built a homestead there, described by Binney as "a substantial two-story building, twenty-eight by forty-two feet." Esther and Samuel had six of their children in Stonington: Jonas (b. 28 Sep 1710); Esther (b. 1713); Oliver (b. between Esther and Eunice); Eunice (b.1717); Thomas (b. 1719); Dorothy (b. 1723); and Lucy (b. 1727). Samuel died in 1728, age 48 years. His widow Esther remarried, to Christopher Avery.
Children
Siblings
Residences
Vital Records
Stonington Gravestone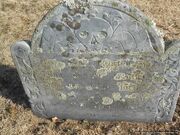 See Also
Footnotes (including sources)
Community content is available under
CC-BY-SA
unless otherwise noted.