Samuel Bemis, Sr. was born 7 August 1690 in Watertown, Middlesex County, Massachusetts to John Bemis (1659-1732) and Mary Harrington (1663-1716) and died 8 August 1776 Spencer, Worcester County, Massachusetts of unspecified causes. He married Sarah Barnard (1694-1756) 12 April 1716 in Watertown, Middlesex County, Massachusetts.
Biography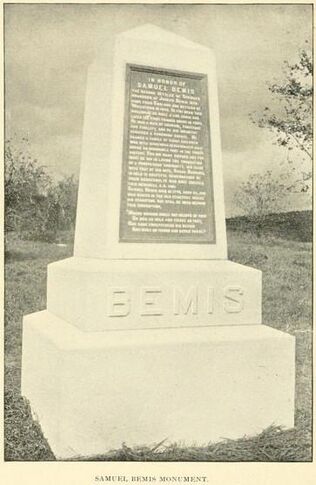 Draper's History of Spencer
Bemis, Samuel, came from Watertown, 1721, and was the second settler in Spencer. He was born in 1688, was m. to Sarah Barnard of Sudbury. He was doubtless, a descendant of Joseph Bemis, who came from England to Watertown in 1640, and was probably the ancestor of all who bear that name in this part of New England. He purchased 400 acres of land of the easterly part of lots 29 and 36. He commenced felling the ancient forest, which covered his farm, before he moved his family there. At that time the Indians had not all retired from this part of the country, and some of them frequently came into his cabin and tarried with him through the night, but their presence was very offensive to him. In 1722, when his wife was about to give birth to her third son William, fearing the Indians, she made a journey to Sudbury, for safety during that critical period, and when her little son was only 2 weeks old, she rode home on horseback, a distance of nearly 50 miles in one day, and carried her infant son in her arms, although the greatest part of the distance of the road, such as it was, passed through an entire wilderness! He (Samuel) acquired a handsome estate, and built the first frame house in town, a building of 2 stories, which stood on the site of the present house of Mr. Robinson, and was taken down a few years since.
Bond's History of Watertown
Bond's "History of Watertown"(p.22) "m., 4-12-1716, Sarah Barnard. They settled first in Sudbury, and, in 1721, moved to Spencer, and he was the second settler in that town, where he d. 8-1776, and she d. 9-30-1756. For interesting history on his him and his children, see Draper's History of Spencer, 105-109.
Marriage and Family
His wife Sarah died 9-30-1756. His children were:
Samuel, b. 5-1716,
Edmund, 11-1-1720;
William, 11-1-1722;
Nathaniel, 1725;
Jonas, 3-25-1727;
Sarah, 12-27-1727;
Joshua, 7-14-1729;
Elizabeth, 1732;
Children
Siblings
Vital Records
Old Spencer Gravestone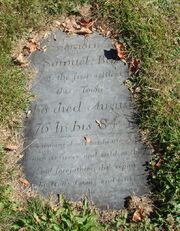 Location:

Old Spencer Cemetery

Inscription:
"In Memory of Mr. Samuel Bemis, one of the first settlers of the town, who died August 1776, in his 84th yr. Wherenothing dwelt but beasts of prey, Or Men as fierce and wild as they, Our kind forefathers did repair, And built us towns and cities there."
References
Residences
Footnotes (including sources)