Maj Samuel Barnard Jr. was born 19 June 1737 in Watertown, Middlesex County, Massachusetts, United States to Samuel Barnard (1699-1762) and Susanna Harrington (1711-1790) and died 8 August 1792 Watertown, Middlesex County, Massachusetts, United States of unspecified causes. He married Elizabeth Bond (1743-1790) 24 March 1773 in Watertown, Middlesex County, Massachusetts, United States.
Biography
Barnard, Samuel, Watertown. MASSACHUSETTS SOLDIERS AND SAILORS OF THE REVOLUTION:
Captain of a company in Col. Thomas Gardner's regt., which marched on the alarm of April 19, 1775; service, 6 days;
1st Major, Col. Samuel Thatcher's (1st Middlesex Co.) regt.; list of officers of Mass. militia; commissioned Feb. 7, 1776;
pay roll for service from March 4 to March 9, 1776, 5 days, at Roxbury, at the taking of Dorchester Heights;
list of officers dated Watertown, April 26, 1776.
1773 Boston Tea Party
He was a participant in the Boston Tea Party (initially referred to by John Adams as "the Destruction of the Tea in Boston") was a political protest by the Sons of Liberty in Boston, on December 16, 1773. The demonstrators, some disguised as indians, in defiance of the Tea Act of May 10, 1773, destroyed an entire shipment of tea sent by the East India Company. They boarded the ships and threw the chests of tea into Boston Harbor. Many of the participants were members of prominent Boston families and kept their identity secret for years fearing both government reprisals and shipping company lawsuits.
Major Samuel Barnard, Junior one who was called to Throw that old Tea overboard in Boston Harbor and at Dock the Englsh flagged Ship berthed.
Marriage and Family
Children
Siblings
Vital Records
Watertown Gravestone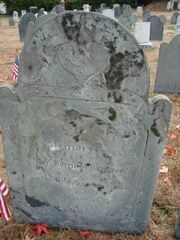 In Memory of Maj Samuel Barnard who died August 8th 1792 AEtatis 46
References
Residences
Footnotes (including sources)
Community content is available under
CC-BY-SA
unless otherwise noted.