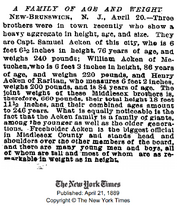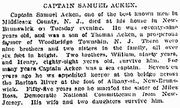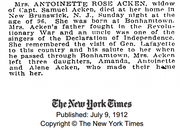 Captain Samuel Acken (1813-1892) was the sea captain of the schooner A. M. Acken. He served in the Transportation Service of the Quartermaster Corps of the US Volunteers. In 1875 he was appointed as the keeper of the Albany Street Bridge in New Brunswick, New Jersey. (b. March 2, 1813 - d. December 13, 1892; New Brunswick, New Jersey)
He had nine brothers and two sisters:
New Brunswick, N.J., April 20, 1889. Three brothers were in town recently who show a heavy aggregate in height, age, and size. They are Capt. Samuel Acken of this city, who is 6 feet 6 inches in height, 76 years of age, and weighs 240 pounds; William Acken of Metuchen, ...
Obituary and funeral
Edit
"Captain Samuel Acken, one of the best known men in Middlesex County, New Jersey, died in his house in New Brunswick on Tuesday evening. ... His wife and two daughters survive him."
"The funeral of the late Captain Samuel Acken took place from the First Reformed Church this ..."
External link
Edit
References
Edit
Community content is available under
CC-BY-SA
unless otherwise noted.